News |
Tuesday, 19th March 2019
'Escape room' maths project shortlisted for Guardian University Award
More than 1,500 young people visited 'Oubliette' at Manchester Metropolitan
A creative project using escape room-style conundrums to teach maths has been shortlisted for a prestigious Guardian University Award 2019.
Oubliette, led by Dr Mark Peace, was an escape-room installation designed and developed by Manchester Metropolitan University students to help tackle maths anxiety in a novel, creative way.
Based on embodied mathematical principles, participants would work in teams and dance their way to a target number in a 1970s club, calculate trajectories and velocities with a projectile launcher on an alien landscape, unlock Ancient Egyptian mysteries and more.
The installation was the result of an innovative University-wide project involving students from all faculties, with students shaping the lifecycle of the project, from its inception, to design and build, to marketing, and management and staffing.
The aim of the project was to deliver a genuine real-world attraction that not only showcased student capabilities, but delivered a direct positive impact to the children of the city-region and beyond.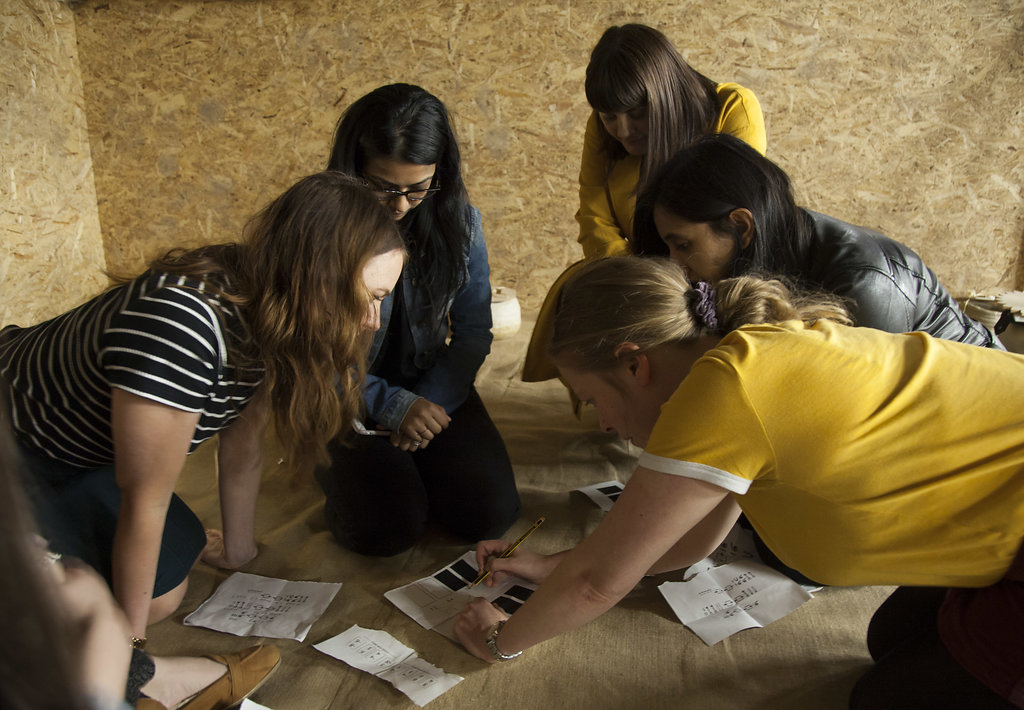 Impact
During its six-week run, 1,500 young people from across the North West visited and it is now in the running in the Teaching Excellence category at the Guardian University Awards 2019.
Dr Mark Peace, Academic Lead for Student Centred Curriculum and Oubliette Project Director, said: "We wanted to unlock the amazing creative talents of our students, and help them to work together to deliver real social impact. Our students delivered a positive experience of maths, which broke people free of some of their negative associations.
"It's really heartening to have received this nomination for a project which really did run on the enthusiasm and good will of staff from across the University – from 'teaching' academics from every faculty, through professors, technical officers, administrative staff and those from our widening participation office.
"It's a real valedictory tribute to the value of interdisciplinary and product-based learning."
The Teaching Excellence category celebrates outstanding teaching initiatives that inspire student learning and attainment through innovative pedagogy.
Keith Faulks, Pro-Vice Chancellor of the Faculty of Education, said: "We are delighted to see a project pioneered by the Faculty of Education recognised in the prestigious Guardian University Awards. The nomination is really a testament to the hard work of our incredible students and staff. Oubliette, and its success, was down to the collaborative approach between academics, researchers, students and technical staff and serves as a fantastic example of research-led teaching, which has had a huge impact on the student experience and wider community across Greater Manchester."
Shortlisted entries will be judged by a representative panel from across the UK higher education sector, and winners will be announced at a prestigious ceremony in London on April 10.
Read the full Guardian University Awards 2019 shortlist.