News |
Wednesday, 2nd December 2009
Nabil has designs on success
Party dresses hit the high street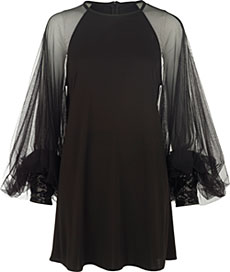 Sizzling designs by MMU's Nabil El-Nayal are about to become some of the hottest on the high street as his collection of Christmas party dresses arrive in River Island stores up and down the country.
Fashion insiders are expecting the limited edition range to sell out rapidly, although the 2008 BA (Hons) Fashion graduate is still finding it hard to accept that his own commercial collection will soon grace shopping rails nationwide.
"It still doesn't seem real," says 24-year-old Nabil. "I can't quite believe that my designs are going into mass production. It's overwhelming and it's going to feel really weird when I see a total stranger wearing a dress that once existed only in my head."
A talent to watch
He adds: "I was so excited River Island asked me to come up with a special collection for Christmas. I did the drawings in August and they went straight into production. There will be 300 dresses made, they will be a limited edition, but I'm told that if the styles are successful there could be a repeat of them in different colours for the spring."
River Island is tipping Nabil as a talent to watch. A spokesperson for the top national fashion store said: "An exciting graduate to watch, his accomplished dress designs for River Island show progression and inspiring creativity."
Graduate Fashion Week winner
Nabil's final year collection of strikingly beautiful monochrome pieces won the Womenswear Award at Graduate Fashion Week last year.
He describes his dress designs for River Island as an extension of his winning graduate catwalk show: "I took historical references from the Elizabethan and Victorian eras and blended them with traditional Japanese styling and British tailoring."
His designs will sell from £69.99 and include a sequinned number adorned with metal chains, a long sleeve dress with pleated cream detailing and metal spikes and a design with sheer ethereal sleeves.
Next big thing in British womenswear
Tipped as the next face of British womenswear, Nabil's talents have already made an impression on one of fashion's biggest names. Burberry designer Christopher Bailey met Nabil while judging the British Fashion Council scholarship award last year, an award Nabil won, and offered him a work placement with the Burberry Prorsum label at their swanky Vauxhall headquarters.
Nabil is currently studying at the London College of Fashion and the British Fashion Council scholarship enables him to study for an MA in Womenswear design at the Royal College of Art in London.