News |
Monday, 16th March 2020
Nursing Professor celebrated as 'phenomenal woman' in new exhibition
Prof Laura Serrant's portrait features in exhibition honouring Britain's black female professors
Manchester Metropolitan's Head of Nursing Professor Laura Serrant will be celebrated in the first ever photographic exhibition honouring Britain's black female professors.
The exhibition, Phenomenal Women: Portraits of UK Black Female Professors, features portraits of 40 professors across a broad range of subjects including law, medicine, creative writing and sociology.
It aims to highlight the presence and excellence of all the women included and provide a platform for debate about what it takes to reach this highest level of academic scholarship.
Representing nurses and minority communities
Prof Serrant has extensive experience in national and international health policy development, particularly in racial and ethnic inequalities, and it was her work in this area that led to her being awarded an OBE in 2018.
She has frequently found herself as the sole voice representing nurses and minority communities – but is a position that she is challenging by empowering others to come forward and join her.
In 2014 Prof Serrant was named as one of the top 50 leaders in the UK by The Health Services Journal in three separate categories: Inspirational Women in Healthcare, BME Pioneers and Clinical Leader awards.
More recently, the Powerlist 2018 listed her as the eighth most influential black person in the UK.
She says that she enjoys her work because it makes a real difference to people's lives.
Prof Serrant said: "As we celebrate International Women's Day 2020 and the International Year of the Nurse it is apt that this exhibition of black female professors in higher education is revealed.
"I was immensely proud as one of only a handful of black professors of nursing in higher education to take part in the research that underlined this work by Nicola Rollock.
"It is important for my profession and for the future nurses to see us – indeed for all students, across the diverse spectrum of higher education to believe that for them too, this is possible." ​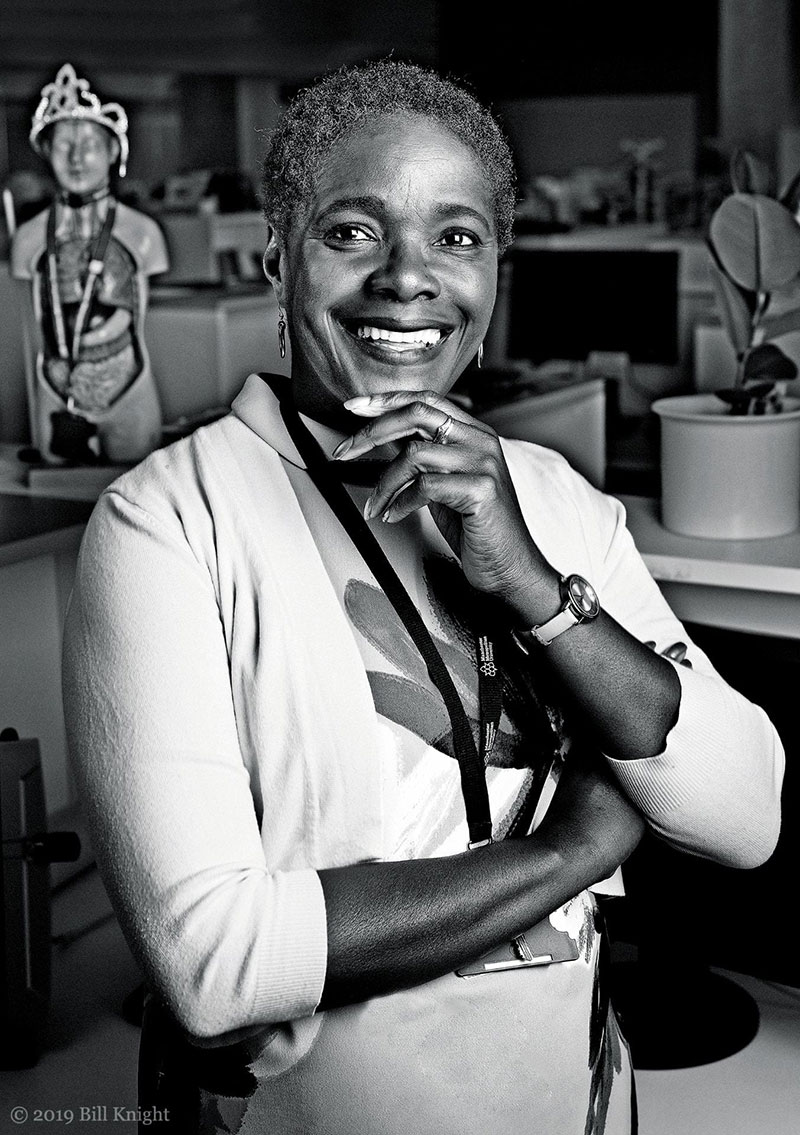 Career experiences
The exhibition was researched and curated by Dr Nicola Rollock, Reader in Equity and Education at Goldsmiths University of London, who has been examining the career experiences and strategies of black female professors at UK higher education establishments over the past three years.
The portraits of all of the professors were taken by photographer Bill Knight OBE, who travelled across England and Wales to capture the images.
Phenomenal Women: Portraits of UK Black Female Professors will be held at City Hall in London and will be open to the public for a week from March 18 – 31.
The exhibition is sponsored by Paul Hastings, UCU, Pearn Kandola, Wellcome Trust and Baker McKenzie and is supported by the Mayor of London, Runnymede and Goldsmiths, University of London.