News |
Friday, 7th May 2010
Tribute to drowned migrants
Premiere of The Red Knot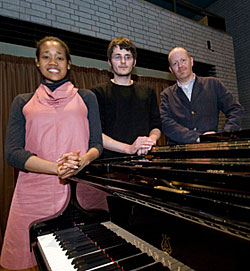 THE DEATHS of 23 Chinese cockle-pickers in Morecambe Bay in 2004 inspired postgraduate writing student Eileen Pun to put pen to paper.
The result is a piece of musical theatre to be premiered at the Royal Northern College of Music next Wednesday, May 12.
The Red Knot interweaves the true story of the lost lives with a fictionalised story of unexpected love. Set in Morecambe Bay at the time of the tragedy, the piece explores how closely lives in transit share time and environment, and how people navigate between loss and hope.
Eileen, a student on the Masters in Creative Writing, has written the words and RNCM scholar Steven Jackson, the music, in the short chamber opera which will be performed by students from the Central School of Speech and Drama and a RNCM ensemble.
Prize-winners
Eileen and Steven's first collaborative piece of poetry and composition – Runner – won the Rosamond Prize, a joint award from Manchester Writing School and the RNCM.
New York-born Eileen has had her poetry published by Suitcase Press, Cultureword, Manchester City Council and Cumbria Council.
The Red Knot combines Western and traditional Chinese instruments and choreography. Direction is by Jenny Quayle and the conductor is RNCM student Tom Newall.
A collection will be taken at the performance in support of the Ghost's Morecambe Victims fund, www.ghosts.uk.com. This is a free event, booking not required.
For more information, abut Creative Writing at MMU, please contact James Draper, Project Manager, The Manchester Writing School, MMU on 0161 247 1787, j.draper@mmu.ac.uk www.mmu.ac.uk/writingschool or read about some of our many published students.