News |
Wednesday, 13th April 2011
The Clinic opens at MMU
Physiotherapy & Acupuncture treatments now available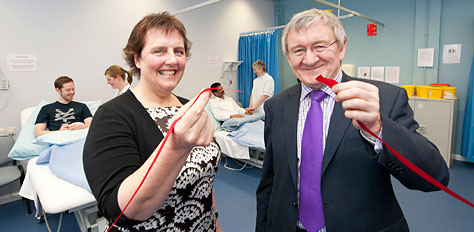 The Faculty of Heath, Psychology & Social Care today launched The Clinic, offering staff and students easy access to affordable and high quality Physiotherapy and Acupuncture treatments.
Based at our Elizabeth Gaskell campus, The Clinic will be staffed by qualified registered practitioners from MMU and students on the University's Physiotherapy and Acupuncture programmes will have the opportunity to practise their professional skills under close supervision.
The Clinic was opened by ITV This Morning's Dr Chris Steele MBE and the launch attended by Dr Peter Mackereth from The Christie Hospital, the CEO of the British Acupuncture Council and the Chair of the Acupuncture Association of Chartered Physiotherapists.
Dr Chris Steele MBE commented: "As a GP I regularly used physiotherapy services and I'm very open-minded about alternative therapies.
Employability skills
"Acupuncture definitely has a powerful place in treatment programmes and there's a lot of evidence of its relieving effects for pain and muscle spasm. It also doesn't react with other medicines or have any dangerous side effects."
Dr Pennie Roberts, Head of the Department of Health Professions, said: "Students need to spend time practising their patient assessment and treatment skills and, as many physiotherapists use acupuncture as part of their management plans, opening The Clinic to offer both therapies made perfect sense.
"Our practitioners have over 100 years experience between them and, being university based, I believe we can offer patients physiotherapy and acupuncture treatment that is second to none."
Exchanges with China
MMU is widely recognised as a leader in the teaching of physiotherapy and launches the only BSc (Hons) Acupuncture course in the North West - and one of only seven in the country - this autumn. MMU staff and students are hoping to undertake exchanges with Liaoning University of Traditional Chinese Medicine in China.
The Clinic can treat up to seven patients at one time and will initially be available on Wednesday and Friday afternoons, with opening hours soon to be extended.
An introductory offer of £35 for the first Physiotherapy and Acupuncture consultation and £25 for follow-up appointments is available to University staff and students on presentation of their ID card.
Book an appointment here or call 0161 247 6837.