News |
Tuesday, 7th June 2011
Young scientist earns UK prize
Royal Society of Chemistry award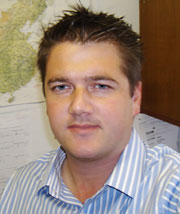 SCIENCE lecturer Dr Craig Banks has been awarded the Royal Society of Chemistry's top prize for young researchers.
Craig, 32, received the Harrison-Meldola Memorial Prize together with Tomislav Friscic at the University of Cambridge and Philip Kukura of the University of Oxford.
The RSC prizes are for "most meritorious and promising investigations in chemistry" and are awarded to researchers in their twenties and early thirties working in the UK.
Craig, who teaches analytical chemistry and forensics at Manchester Metropolitan received the medal for his contributions to the understanding of carbon materials, in particular graphene and its application as an electrode material.
Nano discoveries
He has published over 190 papers with an h-index of 32, is inventor of 11 patents and recently co-authored the book Understanding Voltammetry.
Craig has also spun out two companies and current research interests encompass aspects of electroanalysis and sonoelectroanalysis and applications of nano-electrochemical systems such as graphene, carbon nanotube and nanoparticle derived sensors.
He currently oversees a research group http://craigbanksresearch.com/page1.html of around a dozen post-doctoral, doctoral and masters research students within the University's Dalton Research Institute.
Dr Banks is a Fellow of The Royal Society of Chemistry, committee member of the Electrochemical Technology Group of The Society of Chemical Industry and an advisory board member of the journal Analytical Methods.
He gained his Doctorate from Oxford University.