News |
Monday, 9th July 2012
Elliot's Sinbad breaks hearts and records
Acting student is Sunday night TV star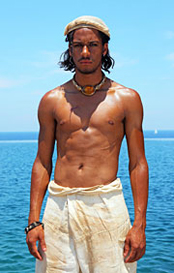 SCHOOL of Theatre graduate Elliot Knight is breaking hearts – and records – in Sky1's new fantasy adventure, Sinbad.
The blockbuster series, which began on Sunday, cost a reported £14 million making it Sky's most expensive original drama commission ever.
Its star is 20-year-old BA (Hons) Acting student Elliot Knight who was busy rehearsing a Willy Russell play at the Capitol Theatre last summer when he was whisked off to 'beef up' for the Arabian Knight hero role.
After plenty of muscle-building in the gym and almost a year filming in Malta, the young actor's experience has been as much of a fantasy as his new role.
Ripped dude
"I'd look at the storyboards, see this ripped dude and think, 'Okay, so where am I?' They were trying to hint at what they wanted me to look like. It was like, 'Elliot, in this episode you're going to the gym'."
According to the Telegraph: "The star is 20-year-old Elliot Knight, an unfeasibly good-looking young man who proffers a beguiling mixture of the athletic, the affable and the articulate, and was plucked out of drama school in Manchester to take on this, his first professional role.
Elliot said: "I'm a huge fantasy fan. I used to dream of this sort of thing. I didn't want just to play Hercules – I wanted to be him. This is the closest thing to that. You get to create that world – and to use swords.
"As a child, I'd go into the garden with bows and arrows and play with my nan. I'd be Robin Hood, and she'd be Little John. I'd use traffic cones as enemy soldiers, and we'd fight them."
Pantomime
The mythological story is scripted by Jack Lothian (Ashes to Ashes) and is an unashamedly escapist romp, with the first episode packing in a pantomime baddie (Lost's Naveen Andrews), rooftop chases and a sea vulture, with plenty more scares and scars to come in the 13-part drama.
The young star, who took combat skills as part of the MMU course, was highly-rated by his lecturers, taking the lead role in Macbeth and also appearing in Serious Money, Heartbreak House, Pornography and Great Expectations.
He didn't quite finish the Russell play Stags and Hounds though: "Someone stood in for me in the play and I just upped and left. I hadn't even finished my final year. I still managed to graduate though!"
Huw Kennair-Jones, Sky's Drama Commissioning Editor, said: "From the first moment we saw Elliot we knew that we'd found someone really special who sums up everything that our Sinbad should be – contemporary, spirited, full of life, wit and charm - he's a truly exciting new talent."