News |
Thursday, 30th August 2012
Sarah Storey's world record warmly welcomed
Academics work behind scenes at London Paralympics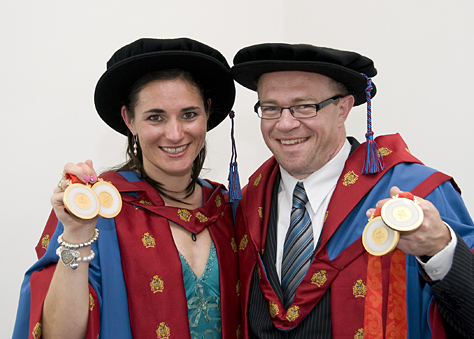 MMU-sponsored athlete Sarah Storey bagged TeamGB's first gold medal and broke another world record today as the Paralympic Games began with plenty of university involvement.
After the thrill of staff coaching involvement in the Olympic Games, the excitement continues as four academics step into the limelight at the Paralympics.
Exercise and Sport Science at MMU Cheshire is supporting the Paralympic GB swimming teams and Paralympic GB Football team (men) in their quest for medalsin London.
Cyclist Sarah Storey's world record in the 3km pursuit will be warmly welcomed by the ESS team who frequently host the Paralympian veteran at their £10 million Sport Science Centre at the Crewe Campus.
Expertise
Our academic input in London comes from another veteran Dr Carl Payton – his fourth games – Conor Osborough and Casey Lee, who received their Doctorates just last month.
All three will be working with the swimming teams, while Ayser Hussain will be working with Team GB football.
Carl, who is lead biomechanist with the GB Paralympic swimming team, said: "I'll be looking for as many of the team to be fulfilling their potentially and hopefully see the incredible effort they've put in pay off with medals. We did pretty well in Beijing, so fingers crossed."
Earlier this month Dr Payton, joined up with the 44-strong squad which includes double Gold medallist and national heroine Eleanor Simmonds at a camp in Manchester.
Carl, who has worked with most of the swimmers for years, added: "It's a 24/7 operation until the end of the Games," he says. "Together with Conor and Casey and doctoral student Yim-Taek Oh, I'll be offering performance analysis and technical support."
Immensely proud
Dean of MMU Cheshire Dennis Dunn said: "The University has made a substantial contribution to these Paralympic Games. Sport Science based at the Crewe campus has been the focal point of our support and I am immensely proud of our talented scientists and students whose contributions will do much to enhance the performance levels of the athletes they are working with."
In Beijing, the ParalympicsGB team won 41 medals, 11 of them gold, finishing fourth on the swimming medal table and also finished second and third on the table in Athens and Sydney respectively.
Two ex-students are also closely involved in the Games, and appeared during the opening ceremony.
Nik Daiper is working as UK Sport Physiologist, and Pasan Kularatne is performance director for Disability Shooting.
Both graduated in 2006, and travelled from their homes in Kenya and Sri Lanka respectively to study with the ESS team.
- During the Games, Dr Payton, Dr Lee and Dr Osborough will be conducting a funded research project on drag created by swimmers.