News |
Monday, 15th July 2013
Novelist and sportsman honoured at graduation
Alan Garner and Geoff Thompson receive honorary degrees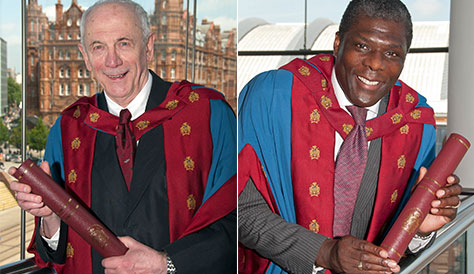 NOVELIST Alan Garner has described a worthwhile life as "one where the donkey never catches the carrot."
Speaking at the graduation ceremony for MMU's Cheshire campus, where he became an honorary Doctor of Arts, the author of Elidor and the Weirdstone of Brisingamen told the assembled graduands that honing his intelligence at University "enabled me to discover not what I wanted to do, but what I had to do, and then quickly to pursue it."
Garner, who is 78, has won numerous awards for his work, including bothe the Carnegie Medal and the Guardian Children's Fiction Prize for The Owl Service.
His work is much influenced by the landscape of Alderley Edge where he grew up, and local myths, including The Wizard of the Edge.
Mystical reality
Alan told the students: "Everyone is to be congratulated. Enjoy the moment – you've earned it – but don't think you've finished. This is a starting point, not a finishing line."
Robert Graham, Programme Leader BA (Hons) Creative Writing at MMU's Cheshire campus, said: "Over the past 50 years in novels such as Elidor and The Weirdstone of Bresingamen, Alan has thrust his characters and readers into a mystical reality.
"His descriptive powers and the richness and range of his vocabulary is remarkable. In black ink on white pages, the colour, shape and texture of the Cheshire landscape has been made real."
Many challenges
Also receiving an honorary doctorate was Geoff Thompson, the five times world karate champion turned education advocate.
Geoff is the founder of the Youth Charter, and has been instrumental in helping the Government develop programmes to use sport, arts and culture to improve young people's lives.
He told the students: "There are still many challenges in how sport reflects society and helps society – we are not a panacea, but we can do much to equip people to be the best that they can be."
He urged the graduands to "be the change and the global citizens that you can be. Your rights and responsibilities are everything."
Neil Fowler, Head of the Department of Exercise and Sport Science, said: "Geoff Thompson is a tireless leader for the cause of social justice, and a relentless advocate for the power of both sport and the arts."