News |
Wednesday, 13th November 2013
Radar scanner detects hidden guns, knives and explosives
MMU scientists' machine set to make world safer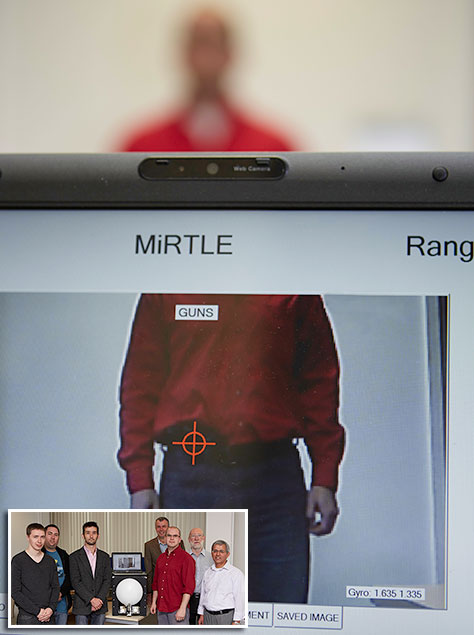 CLICK HERE TO SEE A VIDEO OF THE SCANNER
A HIGH-TECH radar scanner which automatically detects hidden bombs and guns on people is set to revolutionise security at airports, shopping centres, stadia and transport hubs.
Experts at Manchester Metropolitan University (MMU) have developed scanners that find concealed weapons in real-time using radar waves and complex computer programs.
The technology is designed to rapidly scan individuals in a crowd as they pass through areas such as public spaces, gates or entrances and instantly alert officials as soon as a threat is detected.
The machines work at a distance of up to 25 metres using low-power millimetre-wave radar signals that reflect off a weapon and back to the scanner, but without compromising people's privacy or health.
Threat detection
An in-built computer determines the presence of dangerous objects or material and alerts the operator within seconds of detection. The artificial intelligence (AI) in the device differentiates between common items such as keys, belt buckles or mobile telephones from those that present an immediate threat to security and safety.
The system promises to help security officials combat a wide range of threat items such as hidden handguns and knives through to people wearing explosive vests. Unlike airport scanners, the device does not produce an image of the subject but only analyses radar signals reflected from the person.
The devices include a handheld system for mobile use in the street and a larger, extended range static version suitable for checkpoints or vehicle mounting. Both scanners are portable, battery powered and, in the case of the static version, can detect threats from 20 to 25 metres away.
They can be used covertly or overtly for checkpoints, mass transit points, shopping centres, stadia or other security sensitive areas. The devices can be carried by multiple operators screening a crowd or deployed statically and monitored remotely.
'It will make the world a safer place'
Research began after significant funding from the Engineering and Physical Sciences Research Council (EPSRC), the Metropolitan Police and the Home Office Scientific Development Branch.
Now, the prototypes, codenamed MIRTLE and MIRLIN, are currently being turned into commercial versions ready for security services around the world. They will roll of the production line in Spring 2014 with customers already lined up to test the technology.
Professor Nick Bowring, Head of the Centre for Sensing and Imaging at MMU, led the team that developed the system.
Prof Bowring said: "It will make the world a safer place - there is a significant amount of gun crime that could be stopped, for example. We know that this technology works and has done very well in trials.
Cutting-edge technology
"My team and I wanted to use our knowledge of microwave and millimetre wave radar systems at the cutting edge of technology, to turn a theoretical possibility into a practical and marketable solution.
"I'm very pleased with it. I'm happy to do something which can leave a mark and I wanted to be able to make a contribution to society and I believe this will do that."
Explaining the science behind the technology, Prof Bowring added: "The beam of millimetre-waves are reflected back from the target, containing information about the target. Those waves are interpreted by a computer, which looks at the pattern of the returns and compares them against previous detections, such as a person carrying a threat item.
"It's really a combination of a radar system and an AI-based computer system. It would have been unthinkable to make it just five years ago because the computing power and hardware were just not there.
'Significant interest'
"There are no privacy issues because it doesn't form an image of any part of the body. It determines the threat automatically and focuses the security services' attention on a particular subject. The radar waves directed towards a person are completely harmless as well, typically we use a thousandth of the power of a mobile phone."
Prof Bowring started to develop the system in 2004 and the MMU team refined the technique after initial funding from the EPSRC, followed by the Metropolitan Police and the Home Office.
The University has now signed a commercial agreement with Radio Physics Solutions (RPS) which specialises in translating scientific findings into commercial products.
Douglas Dundonald, chairman of RPS, said there is already 'significant commercial interest' in the machines.
Mass adoption
He added: "Expect mass adoption by law enforcement agencies, we think there is real demand for this. It will be an additional but very important sensor that they will be adding into their armoury.
"It'll be used by corporates right the way through to law enforcement and civil defence to identify significant threats, from suicide bombers to people carrying concealed weapons.
"We have significant interest around the world, in particular from the US, UK and the Middle East, but we expect it to widen and deepen in the next six months."