News |
Wednesday, 14th May 2014
Students praise 'brilliant' academic experience
Students' Union announces 2014 Teaching Award winners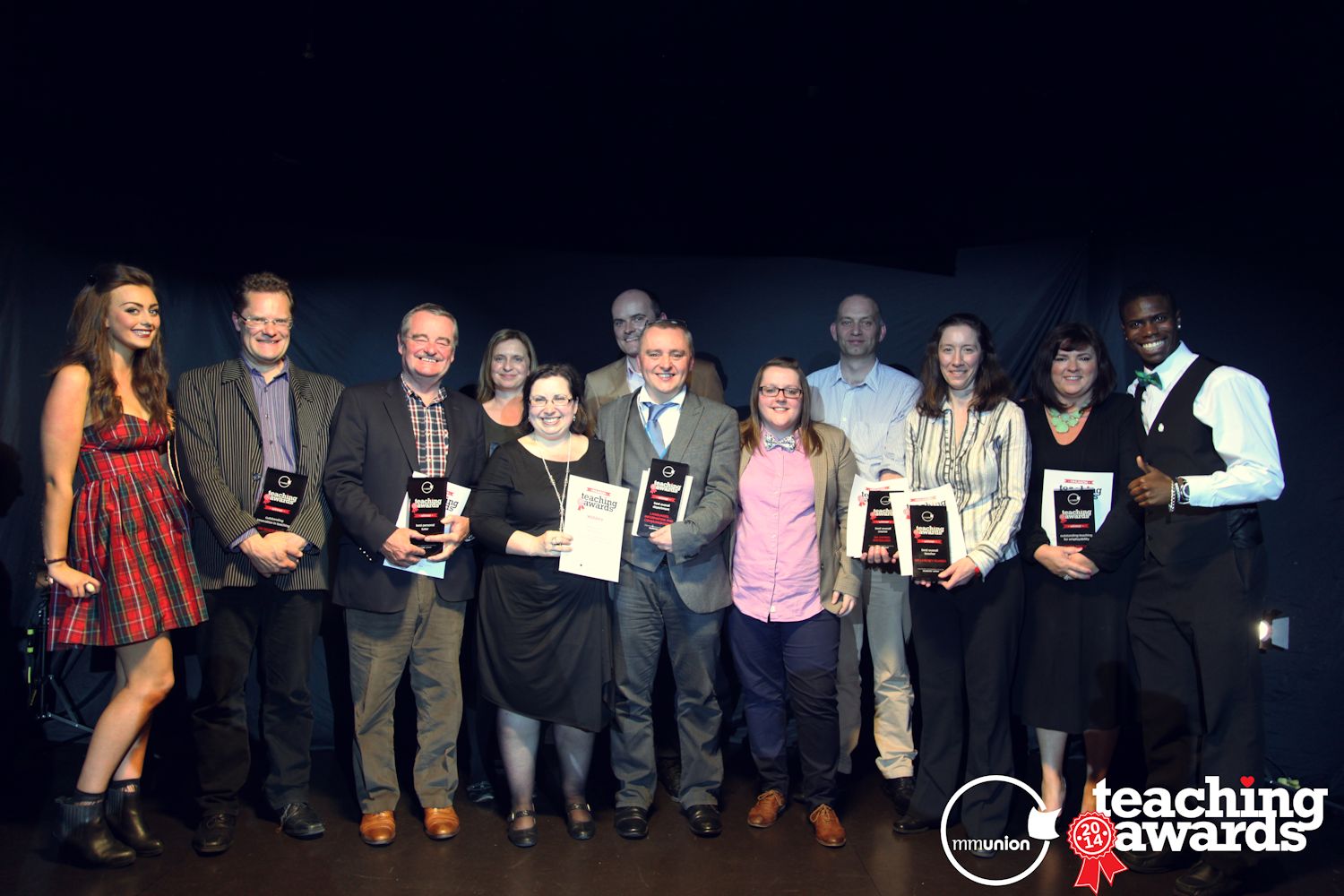 MORE than 1,200 happy students showed their appreciation for their 'brilliant' academic experience at the MMU Teaching Awards 2014 last night.
The Awards – hosted by the Students' Union – celebrate quality in teaching and learning and seek to promote good practice and student satisfaction across all the University's 800+ undergraduate courses.
Already a Guardian winner for Outstanding Student Experience 2013, last night's event underlined the 'life-changing' influence of outstanding teachers, with presenter Kayode Damali (Vice-President Cheshire) noting the "passion" that students feel for inspirational lecturers.
He said: "Our awards recognise the "commitment, inspiration and effort" of the MMU teaching staff, their dedication to students, teamwork and outstanding work in areas like employability.
Passion
"It's great to see the passion with which hundreds of students have responded and we thank everyone who nominated."
The Award for Best Teacher was won by Dr Lindsey Munro, principal lecturer in chemistry, who has an 'undeniable passion for her subject which is reflected in her enthusiasm'. One student said: "Her determination to help each student exceed and compete has inspired me to become a teacher myself."
Best Department was won by Languages, Information & Communications where students cited "incredibly well-educated professionals who make students feel "part of a family". One student said: "The staff have helped me develop from a shy, uninterested student to an independent, confident woman ready to take on the professional world".
The award for MMU's Best Course went to Sociology where organisation and management is "exceptional" the "curriculum is brilliant" and the teaching is "beyond outstanding and the staff always "do their best to engage students with the course material and adapt to student feedback."
Best Personal Tutor was scooped by Business & Management (Cheshire) lecturer Chris Lovatt who apart from being "caring, passionate and approachable" was described by one student as "the best personal tutor I could have wished for".
Twitter trend
The event was a social media hit after it was live tweeted by MMU and MMUnion. It became so popular that #MMUTeachingAwards became a trending topic on Twitter in Manchester. The tweets reached more than 85,000 people, with @ManMetUni tweets being retweeted nearly 100 times, and 65 people taking part in the conversation.
In other awards:
Psychology lecturer Dr Geoff Bunn, who recently presented the History of the Brain series on BBC Radio, won for Outstanding Innovation in Teaching. Geoff's "material, concepts and ideas are on another level", said one.
Outstanding Feedback was won by School of Law lecturer Sallie Spilsbury.
Best Supervisor was won by English lecturer Kirsty Bunting who teaches in the Interdisciplinary Studies department at Cheshire.
Teaching for Employability was awarded to Department of Apparel lecturer Maria Malone – who attributed the win to the strength of industry links and professional commercial experience in the department.
As the Students' Union works closer and closer with academic staff to enhance teaching and learning, there was a special award for Outstanding Achievement made to Dr Rachel Forsyth, of the Centre for Learning and Teaching, for "consistently putting students at the heart of learning."
For all our pictures on the night, see our Facebook page.