News |
Friday, 4th July 2014
Zombies and Monsters science wins national praise
'Deadinburgh' show tours UK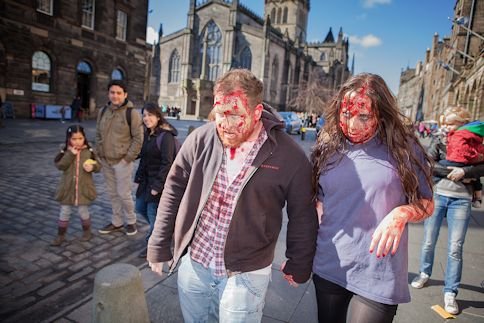 ZOMBIES and monsters are a brilliant way to communicate science to the public – and that's official!
A 'horror' theatre project which introduces audiences to the worlds of epidemiology and biomedical science has earned MMU and its partners a national award.
The theatre event dubbed 'Deadinburgh' after premiering at the world famous Edinburgh festival picked up the prestigious STEM prize at the National Coordinating Centre for Public Engagement awards.
Produced by LAS Theatre, Deadinburgh enables the audience to participate alongside actors playing soliders, scientists and zombies to create a "doomsday" infection scenario.
Risk awareness
Professor Jo Verran (Microbiology) and Matt Crossley (Computing, Mathematics and Digital Technology) play the role of scientists, advising audience members on different strategies using a software tool (SimZombie) originally developed by Matt for his undergraduate project.
The Scotsman newspaper praised the original event, saying that "there's plenty of talk, at the moment, about briding the gap between arts and science; this is a show that actually does it, and provides a good, exhausting, thought-provoking night out, into the bargain."
Prof Verran said: "Our MoMiMa (Monsters, Microbiology and Maths) team have been able to use SimZombie, and a new SimFection package, in a range of public engagement events.
"We were at Cheltenham Science Festival last week, at the Manchester Children's Book Festival at the end of the month, and are hoping for a Deadinburgh-like event at the Manchester Science Festival in October. Exhausting, but really fun, and definitely educational as well!"
School use
With support from the Society for Applied Microbiology, the software package is now being developed into a new tool (SimFection) for use in schools, and the first trials are underway.
For more information on SimZombie, SimFection, or MoMiMa, please contact Prof. Jo Verran (j.verran@mmu.ac.uk<mailto:j.verran@mmu.ac.uk>)