News |
Monday, 14th July 2014
Graphene work earns Prof top honour
One of the most cited scientists worldwide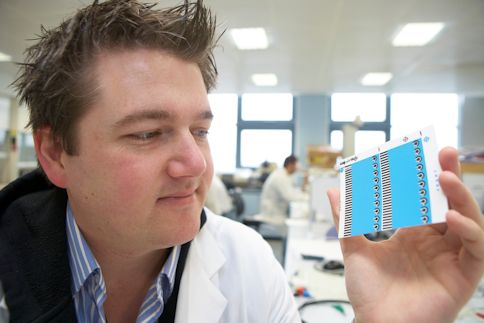 A RESEARCHER has been named as one of most cited scientists in the world for his work with the wonder material graphene.
Professor Craig Banks's pioneering studies into the electrochemistry of graphene means he has been cited by fellow scientists more than 9,000 times.
The chemist is in the prestigious Highly Cited Researcher list 2014. It features the most cited 'internationally renowned' scientists from 2002 to 2012.
This is thanks to Prof Banks's work using the one-atom thick super material as the basis for a new generation of chemical detectors, sensing everything from legal highs to deadly arsenic in water.
'Extremely satisfying'
And not forgetting his earlier research into carbon nanotubes - rolled-up graphene sheets earmarked for use in electronics and optics - that earned similar plaudits.
He said: "It is extremely satisfying to be recognised with this accolade for many years of hard work, not only from myself, but my group members past and present and my many collaborators.
"My highly cited work was undertaken on carbon nanotubes and more recently we switched to graphene given the recent Nobel Prize in Physics for graphene. As this originated in Manchester, it was a nice extension of our work."
He started to build up the impressive body of work in 12 years ago and the prolific scientist has since gone on to amass almost 300 papers.
New applications?
Prof Banks is now looking to use graphene in biofuel cells, 3D printing and to produce green chemical transformations.
Graphene is pure carbon in the form of a very thin, nearly transparent sheet, one atom thick. It is remarkably strong for its very low weight - 100 times stronger than steel - and it conducts heat and electricity with great efficiency. It was first produced in the lab in 2004 by Professors Sir Andre Geim and Sir Konstantin Novoselov, at the University of Manchester. The pair won the Nobel Prize in Physics in 2010 for their work.