News |
Friday, 7th November 2014
Foodie students dream big
MetMUnch 'best sustainability project' UK and Internationally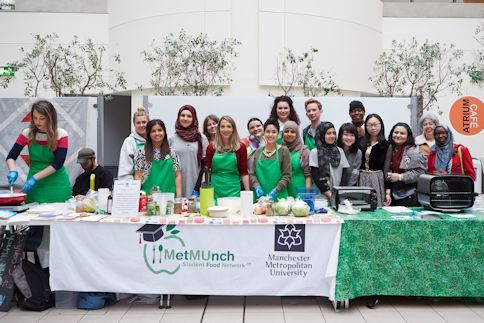 AN EMPLOYABILITY project which gives students the chance to "dream big" has been recognised globally.
Food and nutrition network MetMUnch was judged the best sustainable student project at a UK university and just yesterday won the international title beating projects from Australia and France in the final.
The scheme, which brings nutritional, local and sustainable food to student communities and beyond, scooped the Student Engagement prize at the annual Green Gown Awards, sponsored by CISCO and BT.
Zaak Kassam, who graduated last year said: "MetMUnch is the back bone of my CV, and helped my get a job in research and development for a globally renowned company. Without MetMUnch, I fear I never would have had the confidence to dream as big as I did and to achieve as well as I have."
Exemplary
The project was adjudged a "highly innovative community project" with "strong student engagement" and an exemplar of "learning for employability".
Senior Lecturer in Food and Nutrition Haleh Moravej conceived MetMUnch in 2011 to promote healthy eating and provide students with real-life project management experience has gone from strength to strength and now involves 133 'Met Munchers'.
She said: "It's amazing news that with no funding, that some passionate students and myself have captured 84 judges' imaginations and won the this 'Green Oscar'.
The Hollings lecturer attended the awards with four students Abdullah Al Ali, Floyd Johnson, Nora Chaara and YuLeen Chen.
FUN!
Zaak, one of the original Met MUnchers and a graduate of BSc Food and Nutrition, explained: "When I arrived at MMU I was unsure about my passions in life, but when I heard about the project, I knew from the get go that this was something I just had to be a part of.
"Being a part of MetMunch allowed me to take complete charge of my own learning, and to apply everything the course had taught me into a practical aspect."
"It was also the most fun part of my University life!"
The project has involved students in planning nutrition and healthy eating training for local organisations including greater Manchester Police as well as working with suppliers, cooks and events managers to provide food at the Hulme Festival, Manchester Pride and events on campus.
Transferable skills
Student Abdullah Al Ali said: "MetMUnch brings out the best in people. Throughout my participation in the weekly events, I gained transferable skills that I would have never gained in a lecture based University lifestyle; my time management, teamwork and communication skills improved and not to mention the confidence boost up that I had throughout my experience.
"Working with your peers makes the work more fun, educational and efficient, and working with Haleh is an absolute pleasure as she is a hard working, inspirational woman with endless energy and positive vibes."
Vice-Chancellor Professor John Brooks said: "We put sustainability at the heart of everything we do and MetMUnch is a fantastic example of how it can be combined with employability skills and community engagement.
"More and more of our students and staff are energised and inspired by these agendas, so we are absolutely thrilled to have our successes to date recognised nationally through the Green Gown Awards 2014."
Entrepreneurship
Director of Services Mary Heaney said: "Congratulations to Haleh Moravej for her leadership and inspiration of MMU students over the past three years which resulted in this hugely deserved accolade for the entrepreneurship, professionalism and commitment of our students."
Now in their 10th celebratory year, the Green Gown Awards, sponsored by the CISCO and BT education partnership, recognise the exceptional sustainability initiatives being undertaken by tertiary education.
Haleh, who became the University's Green Impact champion earlier this year, said MetMUnch had made students so proud. "It has enabled them to represent their university nationally and globally in what is the best of the best in UK in sustainability practice while learning for a sustainable future, enhancing their employability, having tremendous amount of FUN doing good deeds in the community and pushing creativity to infinity and beyond."
Watch our video about the MetMUnch project which includes interviews with staff and students.