News |
Friday, 5th June 2015
2015 Teaching Awards winners announced
Who took home the top prizes?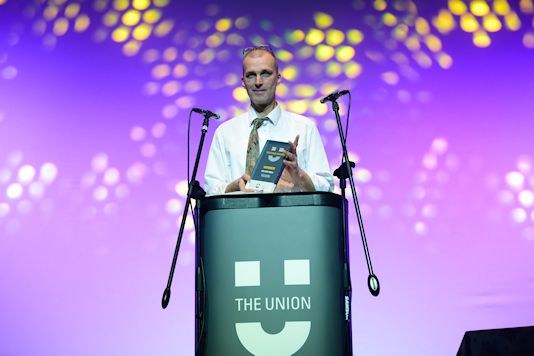 IT was a closely fought battle, but the winners of this year's Students' Union teaching awards have been announced and Dr Huw Bell, Lecturer in Applied Linguistics, has been named the University's Best Overall Teacher.
Ten awards in total were presented. LLB Law won Best Overall Course, and the Best Overall Department title went to the Department of Sociology.
Students nominating Sociology said they believed it to be the best because their opinions were valued by staff, while law students said their lectures were "always really interesting and full of information."
Jacqui Panter, Associate Head of Law, said: "This award is recognition of all the work that has been done by the everyone concerned with the LLB team, to provide the best student experience during their studies with the Law School."
Wonderful recognition
Dr Julie Scott Jones, Associate Head of Sociology, said: "These awards are particularly special as they are student-driven; winning Best Overall Department is wonderful recognition of all the hard work that colleagues in our Department do on a daily basis to ensure excellence in teaching and student experience. Clearly, the students recognise and value this work.
"My colleague, Dr John Goldring's award for 'Outstanding Innovation in Teaching' is wonderful as he a truly inspirational teacher, who always goes the extra mile for our students. It was great to have so many of our staff nominated and recognised in these awards."
Other winners included "sustainability champion" Haleh Moravej, Senior Lecturer in Applied Nutrition, who won the award for Outstanding Teaching for Sustainability. Students said Haleh's teaching "raised awareness of how your food choices make a difference to the environment."
The Outstanding Teaching for Employability award went to Richard Eskins, Senior Lecturer in the Department of Journalism, Information and Communications, who students praised for going out of his way to get industry speakers and experts into his lectures.
Amazing night
The Best Supervisor award went to Dr Amir Keshmiri, Senior Lecturer in Fluid Dynamics, whose students say he "always has time to help". Dr Frédérique Guéry, Lecturer in French, was also praised for always being "willing to find time to talk to students," and took home the award for Outstanding Feedback.
Daryll Griffiths, Education Studies Programme Leader, was named Best Personal Tutor, with one student saying he "goes over and above most tutors I have ever known." Dr John Goldring's "outrageous" teaching saw him win the award for Outstanding Innovation in Teaching.
Jen Adamson, Students' Union Education Officer, said: "We had a really amazing night shouting about how great teaching is at Manchester Met. As Education Officer I think it's really important for us to take time to recognise the top work our teachers do. These awards are a way of students saying a big thanks to those people who have really made a difference to their student experience."
The winners in full:
Outstanding Innovation in Teaching – Dr John Goldring
Best Personal Tutor – Daryll Griffiths
Outstanding Feedback – Dr Frédérique Guéry
Best Supervisor – Dr Amir Keshmiri
Best Overall Department – Department of Sociology
Outstanding Teaching for Employability – Richard Eskins
Outstanding Teaching for Sustainability – Haleh Moravej
Best Overall Course – LLB (Hons) Law
Best Overall Teacher – Dr Huw Bell
Union Award for Outstanding Achievement – Dr Mark Peace