News |
Friday, 28th August 2015
7/7 sketches put on permanent display
Museum of London exhibition for lecturer John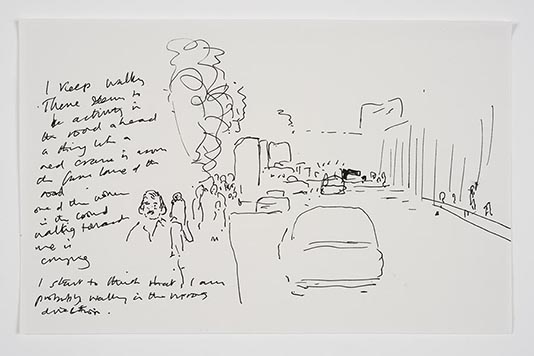 WORKS by John Hewitt, Senior Lecturer in Illustration with Animation, have been put on permanent display by the Museum of London.
The drawings depict John's recollections of traversing London on the day of the 7/7 bombings and were drawn from memory the following day. The drawings are on display in the Museum's City Gallery, alongside the Book of Tributes.
There are 59 drawings in total, which were acquired by the Museum of London in 2006. They were originally published by the University's Righton Press in 2005, in a series of journals entitled 'Emblem'.
John said: "On July 7 2005 I set off from a friend's flat near Canary Wharf to catch a Manchester train from Euston. When I got to Embankment station the underground was shutting down. I walked towards Euston, passing the blown up bus in Tavistock square on the way. I spent some hours with many other people in the Friends Meeting House off Euston Road, then made my way back to Canary Wharf on foot and by boat.
"I finally got back to Manchester on July 8 and immediately began making small drawings, in chronological order, of everything I could remember of the previous day's events. I drew solely from memory. I did not edit or correct the drawings and did not include anything that I could not remember with certainty. The resulting images are very rough, with lots of scribbled written content. They were made as a personal memoir and their subsequent publication and display were not foreseen at the time of production."
Insight
Jen Kavanagh, curator of the exhibition at the Museum of London, said: "As this year was the 10th anniversary of the 7/7 bombings, the Museum wanted to create a new permanent display using a Book of Tributes that the victim's families had created in 2006. When the book was first made, the Museum agreed to put it on display for visitors to view. However, it soon became very damaged due to the high number of visitors who leafed through its page, and it eventually had to be removed from the galleries.
"The 10th anniversary gave us an opportunity to explore ways of marking the events and ensuring the Book of Tributes content was back in the public realm. As such we had the book's contents digitised – this now features on a touchscreen interactive, with the original book sitting next to it in a showcase.
"John's wonderful sketches give a fascinating insight into the experience of someone who was in the London on July 7 2005. Everyone in the city was affected that day, and to have such a sensitively captured recollection of one person's experience felt like a natural alternative narrative to the contents of the book. We're really pleased with the display, and we're so glad to hear that John approved!"