News |
Wednesday, 15th March 2017
Big data project with Greater Manchester Police to help tackle crime and disorder
University analysis to predict demand and improve efficiency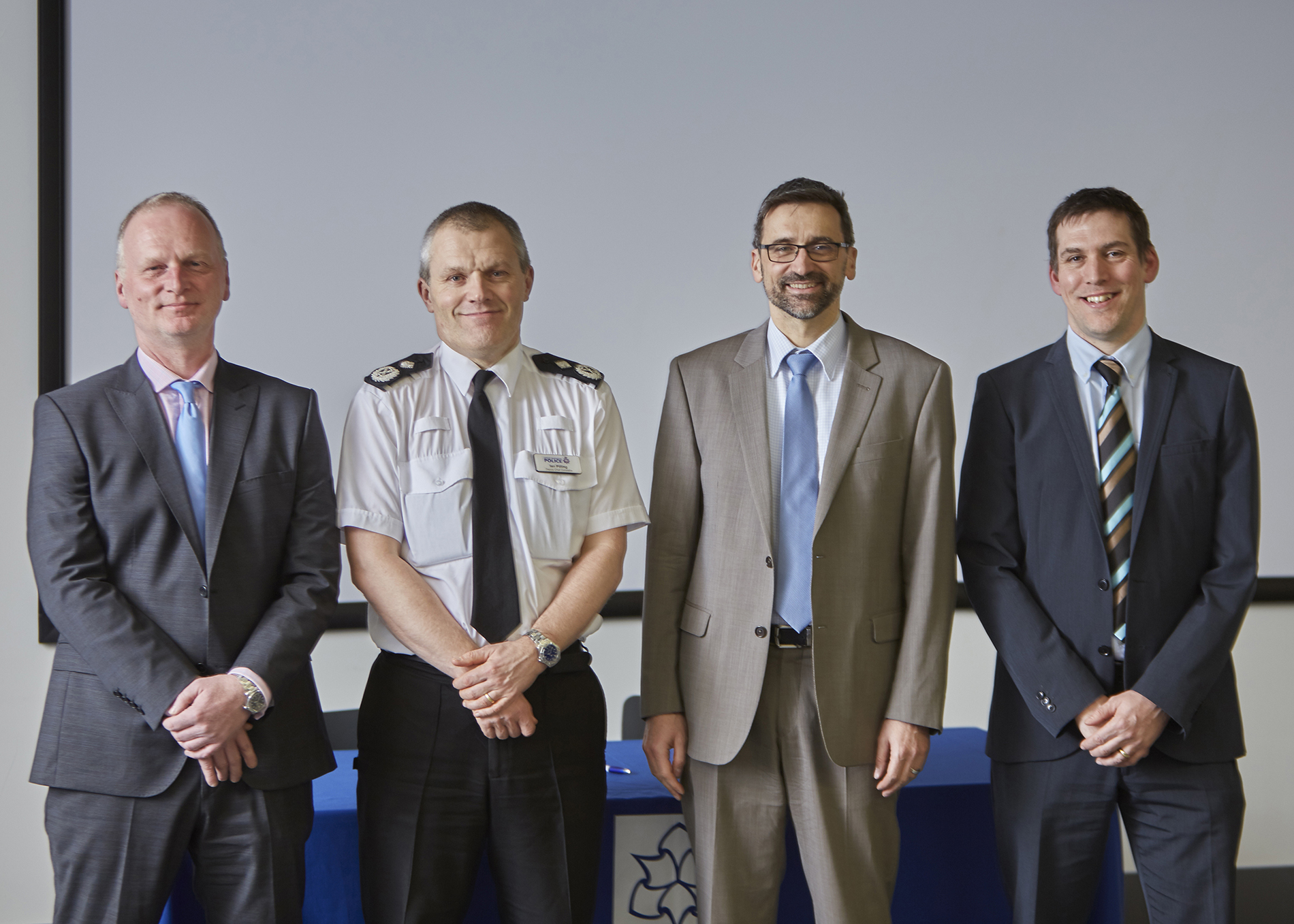 Manchester Metropolitan University has signed a new partnership project with Greater Manchester Police (GMP) to use big data to help support police forces.
Led by Manchester Metropolitan's Crime and Wellbeing Big Data Centre (BDC), the 'Operational Analytics' project will combine criminology with the analysis of big data to help GMP improve efficiency and use resources more effectively.
The £1 million BDC is a state-of-the-art secure data facility that researches the relationships between crime and wellbeing. This multi-disciplinary project programme will see researchers at the BDC work closely with GMP officers and staff to help improve practice.
The partnership will establish a research programme led by Professor Jon Bannister, Director of the Crime and Wellbeing BDC.
Professor Bannister said: "Our BDC leads the way in data science, statistical analysis and technological innovation. With these practices, we can help guide GMP towards planning service delivery - for example, through predicting future demand.
"We believe that this project will offer a unique opportunity to help GMP deliver social impact across the region. An important aspect of this project is the impact it will have on society within Greater Manchester. The project will build on existing projects such as our partnership with Moss Side Probation Service, our community-led education projects and our training courses, to make a wide range of positive contributions to the wellbeing of the people of Greater Manchester."
Ian Pilling, Deputy Chief Constable of Greater Manchester Police, said: "GMP welcomes the opportunity to collaborate with a local academic partner of the calibre of Manchester Metropolitan University, in what is an exciting and innovative development.
"As a service we are seeking to embrace this scientific field, supported by advances in our own technology, to improve how we deliver policing in communities as part of a wider transformation of 21st century public service in Greater Manchester."
Professor Jean-Noel Ezingeard, Deputy Vice-Chancellor of Manchester Metropolitan, said: "Operational analytics is the latest step in our continuing work to help police and society tackle complex crime and disorder problems.
"The project is truly collaborative, blending professional and scientific knowledge at every stage in the research process from design to outcomes."
What is big data?
The explosion of digital technology in the 21st century means that vast amounts of data are now produced and collected by government departments, businesses and other organisations. Big data aims to make sense of this information through using computer systems to analyse very large and complex sets of data.
Big data analysis has the potential to transform organisations through increasing productivity and driving innovation. For example, it can help:
• Improve economy through times of austerity by helping organisations to 'do more with less'
• Help organisations provide more effective services by helping them understand and predict demand
Big Data Centre and Operational Analytics
Manchester Metropolitan University's BDC is at the forefront of this new data revolution. It uses research methods and big data to help public service partners improve their performance and become more effective in achieving their aims.
Operational analytics is the first project to apply big data to the work of the police force and the Greater Manchester region.
Through analysing large sets of anonymised data, the project will help police services determine and predict areas that require demand. This in turn will allow the police services to use their forces more effectively. Using the BDC's research has the potential to transform operational and decision making in GMP. Specifically, it could help:
• Shape recruitment and training to anticipate and meet future demands
• Advance partnership working
• Assist with evidence-based decisions on deployment
Wider societal impact
A key aim of the project is to use data to help boost the wellbeing of people in the Greater Manchester region. The University is already involved with a number of projects to improve the socioeconomic wellbeing of Greater Manchester residents. By linking with the University, the project will allow GMP to build on the University's current initiatives that aim to boost the prosperity of Greater Manchester and its residents.
ENDS
NOTES FOR EDITORS
For more information, contact:
Chris Morris, Press Officer, Manchester Metropolitan University, Tel: 0161 247 2184. Email: c.morris@mmu.ac.uk.
Greater Manchester Police, Public Relation Enquiries. Tel: 0161 856 2284. Email: public.relations@gmp.police.uk