News |
Wednesday, 27th September 2017
£200,000 raised for charity through students' donations
Unwanted goods collected for 'Give It, Don't Bin It' scheme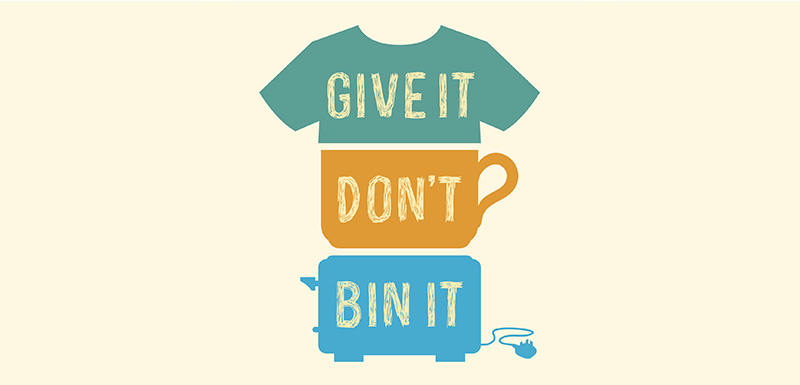 Student residents leaving halls across Manchester over the summer donated bags of unwanted clothes, shoes, books, electrical appliances and crockery to the British Heart Foundation and thousands of meals to the Manchester Central Foodbank in the annual 'Give It, Don't Bin It' end-of-year campaign.
The 'Give It, Don't Bin It' campaign was set up by Manchester Metropolitan University in 2008 as a pilot campaign at the end of term, aiming to encourage students living in Cambridge halls of residence to donate their unwanted items. In its first year, approximately 1.8 tonnes of unwanted items were donated to charity.
Since then, Manchester Metropolitan has been working closely with The University of Manchester, Manchester Student Homes (MSH), Manchester City Council and charity partners in delivering the campaign to all university halls of residence, off-campus student housing and the city's private halls.
This year, over 14,700 bags of unwanted items have been donated to the British Heart Foundation across the partnership, which has raised £206,178 to help support lifesaving research and treatment.
Successful campaign
As part of the campaign, students were also encouraged to donate their unwanted, unopened and non-perishable food items to the food donation points across the partner sites. A combined total of 1,778kgs of food items have been donated to Manchester Central Foodbank this year, which is enough to provide an estimated 4,233 meals for individuals in crisis across Manchester.
Earlier in the year, student volunteers managed to put together a staggering 19,500 packs, which were vital to the success of Give It, Don't Bin It. The packs contained information about the campaign, British Heart Foundation donation bags, and blue and green recycling bags to encourage the uptake of recycling across the city. The student volunteers also distributed the packs to student homes, helping to raise awareness and make it easier for students to donate.
Sophie Leigh, Sustainability Engagement Manager at Manchester Metropolitan, said: "We are extremely pleased that the campaign is so successful; in fact, it's one of the most successful in the UK in terms of volumes donated to our charity partners. A lot of work and passion has been put into growing the campaign by all partners, and it is a great example of how we can work collaboratively, to the benefit of lots of individuals and organisations.
"There are over 70,000 students living in Manchester, and so there's huge potential to grow the campaign of the course of the year. We hope to engage more private student accommodation providers, and will look forward to breaking the £1 million mark raised for our charity partners in 2018."
The University is dedicated to sustainability and is one of the greenest universities in the UK, after achieving and retaining a top three ranking in the People and Planet University League for four consecutive years.
Find out more about Give It, Don't Bin It.