News |
Wednesday, 9th July 2008
Legal chief honoured by MMU
Special occasion for 'Black Letter Law' campaigner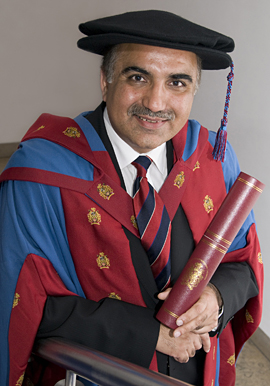 ONE of the UK's most successful lawyers is today honoured by his former University, Manchester Metropolitan.
Mirza Ahmad, barrister and chief legal officer of Britain's biggest council, receives an Honorary Doctorate of Laws for his contribution to the legal profession and his involvement in the 'Black Letter Law' campaign.
Black and minority ethnics represent a third of law students but only a tenth of solicitors on the roll. And, while one in three white solicitors reach 'partner' level, just one in five BME solicitors are partners in their firms.
Mirza Ahmad and other leading BME solicitors such as Shami Chakrabarti are working to change this by their support of the Commission for Racial Equality's 'Black Letter Law' publications which celebrate the achievements of black and minority ethnic lawyers.
MBA
Mr Ahmad, who earned his MBA from Manchester Metropolitan Business School, is also being recognised for his work on ethical governance, human rights and freedom of information.
He receive his honorary doctorate at the 2008 Graduation Ceremony for the University's Faculty of Humanities, Law and Social Science, at the Bridgewater Hall, Manchester.
Miceal Barden, Head of MMU School of Law said: "We are recognising Mirza for his exceptional service to the legal profession, his work on ethical governance, human rights and freedom of information that has made him such an appropriate role model for those following in his footsteps.
"Mirza also shares the ideals of MMU Law School's pro-bono work in the local community offering free legal advice to those who cannot otherwise afford to access it."
£60 million
Mirza Ahmad is the Chief Legal & Monitoring Officer for Birmingham City Council, one of Europe's largest, where he manages over 300 staff and an annual trading budget in excess of £60 million per annum.
In 2000 he was the first local government manager to obtain a '3 star – excellent rating' under the Government's Best Value regime. Under his leadership his department won the Local Government Chronicle's "Legal Team of the Year 2005" and the team has also won awards for its approach to work-life balance.
In 2005, Mirza Ahmad was named one of the Top 5 Lawyers in local government and is Chairman of the Bar Association for Local Government & the Public Service, and a member of the General Council of the Bar for England & Wales.
Personal achievement
In February 2007, he was recognised in the UK's Inaugural Muslim Power 100 and was also awarded their "Public Sector Award".
Mirza, who led an Islamic prayer after receiving his honour, said: "This is a great personal achievement for me, and being a lawyer in a family of doctors, it means I'll now be able to join them!"