News |
Wednesday, 21st June 2017
Microbiology professor helps TV doctor investigate filthy gyms - with shocking results
Professor Mark Enright appeared on Channel 4's How To Stay Well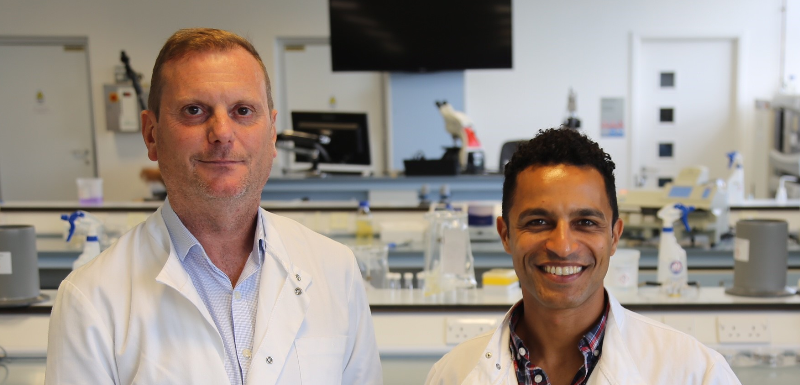 A Professor of Medical Microbiology helped a TV doctor show that sweaty gym equipment can harbour 350 times more bacteria than a toilet seat.
Infectious diseases specialist Professor Mark Enright appeared on Channel 4's How To Stay Well to help presenter Dr Javid Abdelmoneim discover how filthy gym equipment really is.
An undercover team took swabs from seats, mats and weights from fitness centres across the country for Professor Enright to test and he found 70 per cent of the gym samples hosted more bacteria than the dirtiest toilet seat.
It was the second episode of the series that aims to bust the myths and explain all about common health questions, fads and fears that make the newspaper headlines.
Prof Enright said: "Appearing on this episode of 'How To Stay Well' was a very interesting and enjoyable experience.
"I was surprised by the number and diversity of pathogenic bacteria found on the gym samples we tested.
"This gave me some food for thought around personal hygiene in public spaces.
"I don't consider bacterial contamination of gym surfaces with bacteria that are commonly found in the nose, the skin and in the gut as a major health threat to most gym users.
"However, I think the programme will be helpful in raising awareness about how good gym hygiene can help reduce such contamination.
"The large variation in contamination level between gyms indicates that effective personal hygiene and gym maintenance could have a strong effect on reducing bacterial numbers."
Prof Enright's analysis showed the gym equipment harboured bacteria that can cause respiratory diseases and infections and even killer superbug MRSA.
Dr Javid said: "As obvious as it seems I learnt that bacteria, including potentially harmful ones, really are everywhere but that they needn't be.
"If we all washed our hands at the right times we would be protecting ourselves and each other whilst also preventing their spread."