News |
Monday, 22nd July 2019
A report on Manchester Poetry Library's first cataloguing project
Naomi Hall is studying for her MA Library and Information Management at Manchester Met. In this article, she describes her experience of being part of the very first cataloguing project for Manchester Poetry Library.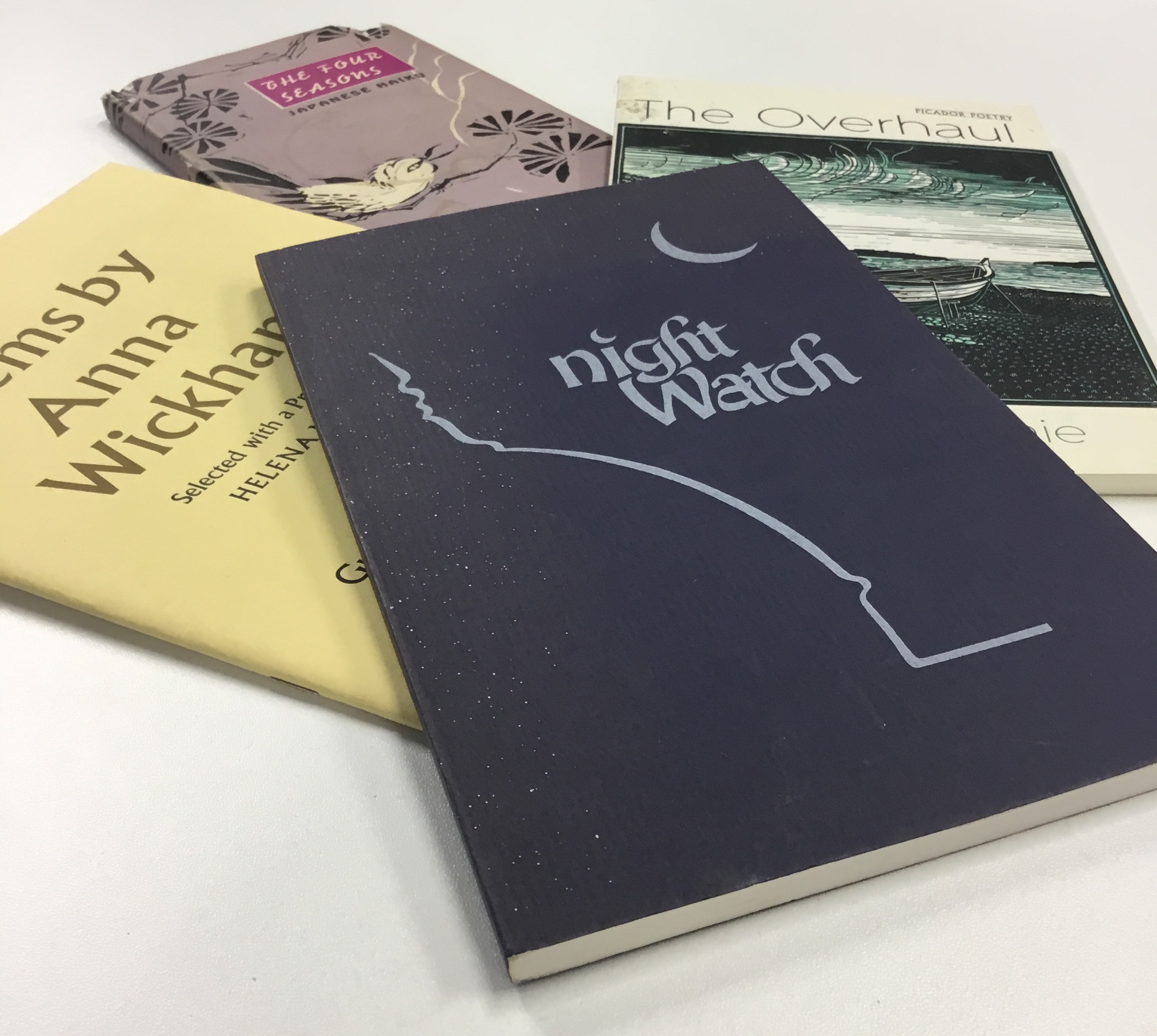 As a student of Library and Information Management, you can imagine my excitement at being part of the very first cataloguing project for Manchester Poetry Library. Our task was to organise the books which have been donated so far and to record descriptive data for them.
The purpose of a catalogue is to provide a record of what the library has and to help users to find items they are looking for. To catalogue a book, you need to consider information such as the title and sub-title, the author and any editors or illustrators. You also have to look beyond the title page for things like the place and date of publication, and the ISBN which can have 10 or 13 digits – a book sometimes has both and sometimes none at all! Each book needs to be given an identification code too. This provides each individual book with a unique label because otherwise some books might have identical information (for example, if you have 2 copies of the same book). In short, this is organisational heaven!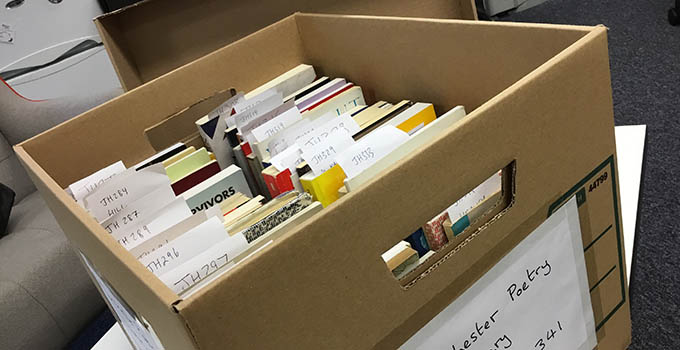 We set to work on the boxes and bags of books which have been kindly donated to the library. The first boxes we tackled were owned by John Horder, a London poet who was known as 'the hugging poet'. Opening up the various boxes, we could soon see that treasures lay within. Some are special editions, a few contain different languages and many are signed by the author. There are some beautiful illustrations and a few of them are bound by hand too. All of these features need to be recorded because it will help people to find books by the aspect that interests them once the library is open.
To keep track of the books and to make sure the physical items match with the digital records we created, we put paper flags in the books showing the identification code we had assigned them. Our IDs are formed of letters and numbers. The letters show who the books were donated by, so that we know where they came from. The numbers were simply chosen by the order the books came out of the box! The final step was to put the books into strong new boxes and label them, ready to be transported to the library. Although a small step, it is very important so that we know where everything is. Just like when you move house, if you label your boxes it makes it much easier when you're unpacking!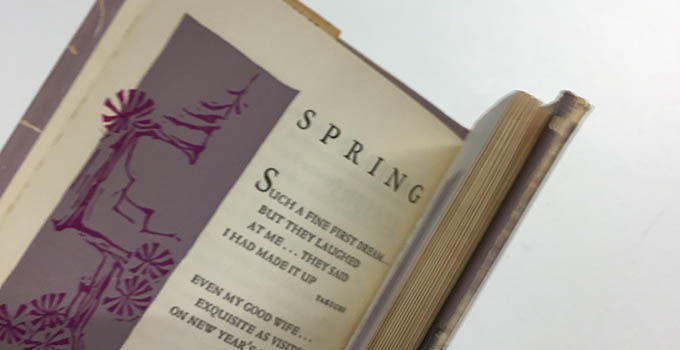 Altogether, there were 552 books in the first set of donations. Most of the books were quite simple to catalogue but every now and then a DVD or a picture disc cropped up. These are more challenging because different types of information need to be entered for them. The donated books will be integrated as part of the library's collection and will be available to be borrowed and enjoyed when Manchester Poetry Library opens in 2020.
By Naomi Hall
A note on the John Horder Collection
The first substantial donation was made to the Manchester Poetry Library in 2018. Our friends at the National Poetry Library put us in touch with the Friends of Highgate Library (FOHL)—set up in 1995 by local volunteers to support and promote use of the Grade II listed library. They in turn were holding a bequest by the family of the poet John Horder, who had sadly died the previous year. His sister writes:
My brother, John Horder, […] was known as the "hugging poet". He was interested in the teachings of the India mystic Meher Baba, whom he called a "hugging genius", and Baba's maxim "don't worry, be happy" became John's favourite saying. […] John was an adorable character. He loved to walk across Hampstead Heath and eat in his favourite cafes. He lived for his writing and his work, almost to the exclusion of everything else. A visit to his flat was an event in itself. He had a table, a couple of chairs and virtually nothing else, except thousands of books and newspapers that one had to climb over to give him a hug.
John Horder wrote both poetry and plays, including his first collection The Child Walks Around Its Own Grave (1966) and Meher Baba and the Nothingness (1981). He also wrote reviews and interviewed poets such as Stevie Smith with whom he was friends.
In the run up to the library opening, we were particularly pleased to have two students from our MA Library and Information Management, Naomi Hall and Erica Hately, to catalogue the donation which has arrived in four boxes. It's an exciting process to delve into the unknown, to discover books and imprints that are new to you, but also to come across old friends who make you think, yes, you need to be on the shelves.
Eventually bookplates will be fashioned to acknowledge the collection properly. In the meantime, we hope John Horder would be pleased to find his books continuing to spread happiness.
To find out more about donating to the Poetry Library, please get in touch. poetrylibrary@mmu.ac.uk