Researchers from across the University shared stories of their achievements.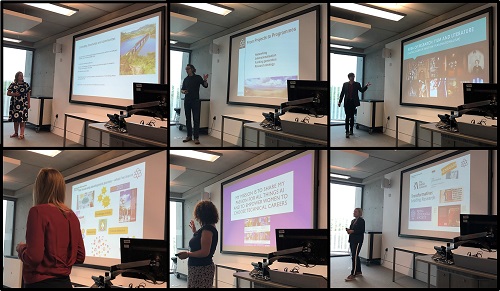 Researchers from across the University shared stories of their achievements at an event that marked the end of the current Future Research and Knowledge Exchange (RKE) Leaders programme.
Academics who are members of the outgoing cohort presented stories on how the programme helped foster their development as leaders to a panel that included Richard Greene, Pro Vice Chancellor for RKE.
Achievements shared included an increased number of international collaborations, the growth of research projects, improved understanding of strategic management, and the confidence to take on more leadership roles.
Promoting AI, encouraging more women to pursue careers within STEM
Dr Annabel Latham, Senior Lecturer in Computing, was among those who presented at the event. Dr Latham used the opportunity as a Future RKE Leader to promote her passion for artificial intelligence as a discipline, and her desire to encourage more women into STEM careers.
She said: "The Future RKE Leaders programme has provided a strategic direction for my career, helped me achieve my goals, and given me a real sense accomplishment.
"One of the highlights was the opportunity to speak at the Artificial Intelligence in Education conference held in Chicago. I was able to share my research into ethics in AI, and promote my interests in supporting underrepresented groups, such as women, in the field."
Further stories were shared by members of the outgoing cohort, which includes:
Dr Xavier Aldana Reyes
Dr Selvino De Kort
Dr Jenny Fisher
Dr Samuel Larner
Dr Annabel Latham
Dr Rosamund Oates
Dr Annapurna Waughray
Dr Gill Yeowell
The presentations reflected the highly diverse, challenging and inspiring development journeys completed by the group.
The Future RKE Leaders programme is a joint initiative between HR and the RKE Directorate, established in 2014 to support the growth in RKE activities at Manchester Metropolitan.
The programme consists of a programme of workshops, cohort development activities, visiting speakers, mentoring and funding to encourage development of leadership behaviours and enhance the external research profiles of academics.
For further details about the programme please contact Dr Megan Webb, Researcher and Development Training Manager in the RKE Directorate.