An art project which used thousands of socks to highlight the devastating effects of diabetes-related amputation has been shortlisted for a prestigious award.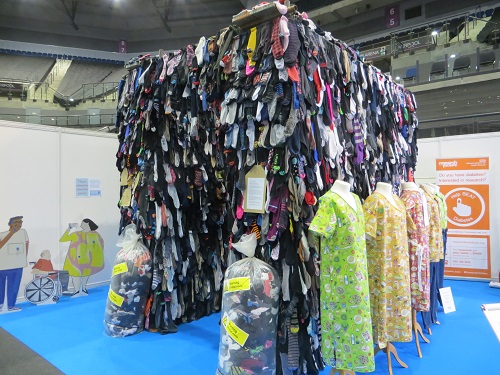 The 'Seven Thousand Feet' installation was created, as part of a larger exhibition, by northwest artist Christine Wilcox-Baker in collaboration with leading medical specialists and researchers from Manchester Metropolitan University (Prof Neil Reeves and Dr Gladys Pearson), and four other organisations.
The installation was built from socks donated by patient support groups, lower limb amputees and people living with diabetes across Greater Manchester. Inspiration came from the shocking statistic of over 7,000 lower limb amputations per year in the UK as a result of diabetes complications – a number that has since increased to over 8,000.
Exhibited throughout the 2018 Manchester Science Festival (MSF) at the Central Library, the project helped raise awareness of the serious but often avoidable outcomes of diabetes.
It has now been named as a finalist in the national Quality in Care (QiC) Diabetes Awards 2019, in the category for Diabetes Collaboration Initiative of the Year – Adults. The Awards recognise, reward and share innovative practice demonstrating quality in diabetes management, education and services for people with diabetes and/or their families.
Exhibition seen by tens of thousands
The Artist, together with participants from all the partner organisations, including researchers, medics and artists, held outreach days, family events and science days, including on World Diabetes Day, to engage with both local people and the tens of thousands of visitors to Manchester Science Festival 2018.
Central to these events was the objective to help as many people as possible find out information about diabetes, get tested for the condition and discover how to get involved in NHS research opportunities to help improve future care and treatments.
The installation was subsequently exhibited at the Diabetes UK professional conference 2019, where it received excellent feedback from health professionals. Feedback has shown it has reached numerous people with and at risk of diabetes.
Christine Wilcox-Baker, Lead Artist commented: "Art and science working together is a dynamic combination. We helped to inform a wide audience about the risks of diabetes, and how to reduce them, in a unique way. I'm delighted that the hard work of everyone involved is being recognised by such a highly respected health organisation."
Katherine Grady, Programme Development Manager with Research for the Future, said: "We're thrilled that Seven thousand feet has been shortlisted for a Quality in Care (QiC) Diabetes award. Being part of such a unique and creative collaboration was a fantastic experience and helped us talk to people in a completely different way about the benefits of taking part in health research."
Dr Martin Rutter added "Christine's groundbreaking work has shown how artwork, designed with the support of clinicians and researchers, can engage and inform the general public and help them to make healthier life choices."
Find out more about our Musculoskeletal Science and Sports Science Research Centre