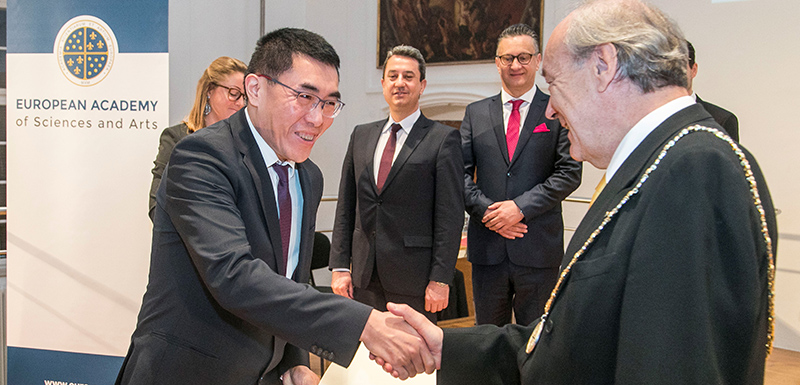 An academic from Manchester Metropolitan University's Business School has been elected as a Member of the European Academy of Science and Arts.
Dr Xin Shi, Reader in Applied Statistics, is now one of 47 academics in the UK to be elected to the Academy for outstanding achievements in science, arts, and governance.
Dr Shi has been awarded for his work in the field of statistical modelling in business and social science, which assists decision-making and health prevention management. His area of research is expected to make a significant impact in decision-making for society and business.
Speaking after receiving his award at a special ceremony for new Members of the Academy, Dr Shi said: "It is an honour to join the membership network of over 2,000 academics across the world in the European Academy of Sciences and Arts.
"To be included in a group of peers who are dedicated to innovative research, interdisciplinary and transnational collaboration, as well as the exchange and dissemination of knowledge, will help me progress the University's current areas of research."
The European Academy of Sciences and Arts is an interdisciplinary academic organisation based in Salzburg, Austria, covering the humanities, medicine, arts, natural sciences, social sciences, law and economics, technology and environmental sciences.
On Saturday 7 March, Dr Shi joined 40 new members from 14 different countries, who were inaugurated as ordinary Academy members.
So far, the academy has more than 2,000 academicians, of which 32 are Nobel Prize winners.
Find out more about the Academy at euro-acad.eu.