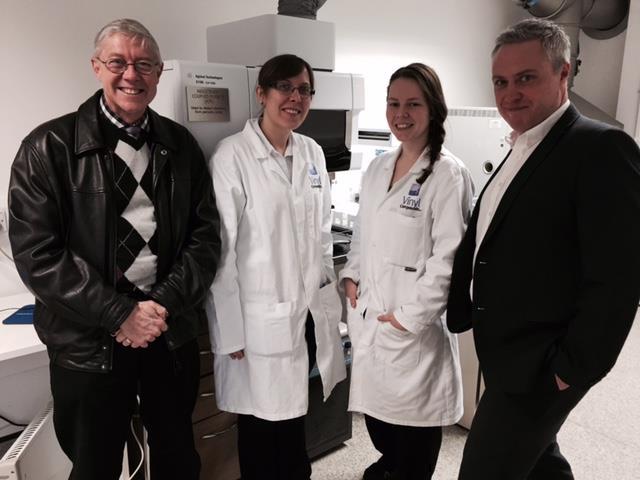 THE University's long-standing expertise and reputation in polymer technology has led to a new partnership – considered the first of its kind – with a leading company.
Vinyl Compounds Ltd (VCL), a market leader in vinyl polymer compounds (PVC), is joining forces with Manchester Met due to its world-leading expertise in polymer technology, to provide insight to two of the company's recently appointed technical staff.
The University has previously had companies approaching for specific research, however, Professor Herman Potgieter, the Head of Division for Analytical Development at Manchester Met, believes this is the first time a company had their own employees trained through open-ended research.
Professor Potgieter has been instrumental in bringing the two organisations together. He said: "Manchester Met is delighted to partner with VCL, and share our expertise in polymer technology to help the company in its quest to remain as one of the market leaders in the industry. We had many previous cases where companies have approached us for specific research and as part of the sponsorship of the research, a student was trained, but to the best of my knowledge no one has asked for their own employees to be trained through open ended research."
Highly skilled
VCL has been developing and manufacturing PVC for more than 40 years, and the company prides itself on having highly skilled staff, as well as being at the forefront of PVC compounding technology.
VCL's Sales and Technical Director, Phil Goodinson, said: "This will ensure we remain at the forefront of what is possible, both technically and commercially, with PVC compounds and additives. We want to ensure that our heavily invested, world-class forensic research and development facility is staffed with the highest calibre of technicians, capable of pushing the boundaries with current and future technologies."
The two technical staff earmarked for the specialised training are Kate Burns and Kate Irvin. Kate will work on predicting and improving compatibility of substances in PVC formulations for improved products and product performances, while Kate will work on compiling a spectrometric database for trouble shooting.
They will conduct their PhD research in the company's laboratory and will visit Manchester Met for meetings and measurements, which they are unable to perform at the plant premises.
Also involved in this initiative from the University are: Dr Chris Liauw, Senior Lecturer and well-known polymer expert, and Senior Lecturer Dr Sanja Potgieter-Vermaak, a materials characterisation specialist.