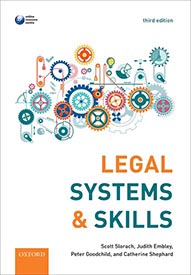 Oxford University Press has published its 3rd edition of Legal Systems and Skills with Manchester Law School's Catherine Shephard as one of the book's authors.
A Senior Lecturer in Law, Catherine has been a co-author of the book since its first edition in 2013. The new edition of Legal Systems and Skills has been fully revised including new content on the outcome of Brexit, international law and Sharia Law, as well as guidance to OSCOLA referencing and case bundles.
Legal Systems and Skills is available to buy from the publisher's website priced at £29.99.