Dr Sumona Mukhuty's development paper 'highly commended' at BAM conference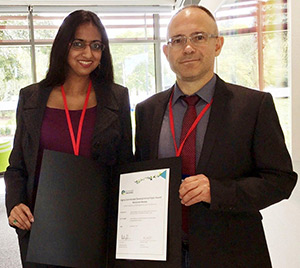 This year's British Academy of Management (BAM) conference saw Dr Sumona Mukhuty, Principal Lecturer at Manchester Met Business School, presented with a Highly Commended Developmental Paper Award in the Human Resource Management Track.
The paper, entitled United Nations Civilian Personnel in UN Hot Spots: Coming Back for More, was co-authored with Nikos Bozionelos, Professor of International Humand Resource Management at Emlyon Business School, France.
In congratulating Sumona, Professor Janet Haddock-Fraser, Acting Head of the Department of Strategy, Enterprise and Sustainability, described the award as 'a fantastic achievement'.
BAM's 31st annual conference, widely regarded as a prestigious international event for business and management academics, was held at Warwick Business School in September 2017.