A Global Ambassador for Marketing Manchester, Chow's work can be seen throughout the city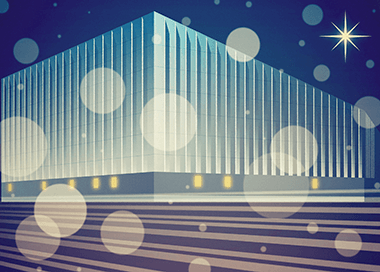 The Faculty of Business and Law was delighted when Stanley Chow agreed to illustrate our festive greetings card for 2017.
Stanley's work can be seen throughout our city and this no doubt persuaded Marketing Manchester to induct Stanley onto its Global Ambassador Programme alongside Visiting Professor of the Sylvia Pankhurst Gender Research Centre, Helen Pankhurst.
Recent inductees onto the Programme also included Professor Jennifer Watling, Pro-Vice-Chancellor for International at Manchester Metropolitan University; Sir Mark Elder CBE, Music Director of the Hallé, and Gary Neville, the former Manchester United and England football player and now Sky Sports commentator and property developer.
'I has a visualisation of how simple and how abstract to make it. The good thing was, even though I broke it down, I did ask my daughter: 'Do you recognise this building?' Well, she is only six, and she said 'oh yeah, that's the building near your office.' – Stanley Chow
Indeed, it has been a stellar year for Chow, even for his high standards. 'The year started out with me being on a BBC documentary called Inside Out, and then it just snowballed from there really. I had an exhibition at Manchester United, who asked me to design their credit card, which was amazing being a Man United fan.'
Despite his growing popularity as an illustrator, Stanley stuck loyal to Manchester, which has since become an exciting, creative hub:
'When I first left home and moved into town, I did feel that I was the only illustrator in Manchester. The amount of people who have moved here, and there are people who have left London and have come up to Manchester… In terms of the creativity here now, it's just amazing.'
When asked how he would describe the city to potential students, Stanley said: 'I see Manchester as a multicultural melting pot. I really love the diversity that we see in Manchester.'
Prints of Stanley's illustration without the Christmas detail are available to order for a limted period. Please contact Gary Shaw at g.shaw@mmu.ac.uk for more details.