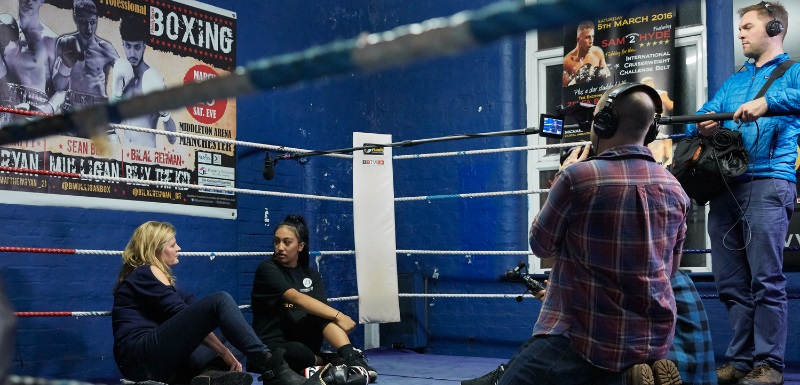 A grassroots project that raises vulnerable teenage girls' aspirations and prospects with a series of activities and support is to be showcased as part of this year's Sport Relief coverage.
Manchester Metropolitan University's Comic Relief-funded Getting Out For Good programme allows young women in Manchester to take part for free in boxing, drama, film, football and mentoring sessions where they can learn new skills, improve their self-confidence, meet others like themselves, and work towards a qualification.
Some of the young people involved may have been excluded from school or be at risk of exploitation or potentially youth violence.
Filming took place earlier this year at one of the evening boxing sessions to highlight the success of the course, which started in January 2017 and provides support to help the girls make the right life choices.
Fashion guru Susannah Constantine, from TV style duo Trinny and Susannah, and EastEnders actress and comedienne Tameka Empson visited the group to enjoy some training and speak to the participants as part of the Famously Unfit… for Sport Relief show in which four celebrities undertake a series of exercise challenges over the course of 10 weeks to regain their fitness and confidence. The show, which broadcasts on Sunday, March 18, on BBC Two, also sees the celebrities visiting a number of Comic Relief-funded projects in the UK to show how money raised by Sport Relief is spent to help people live happier, healthier and safer lives.

Increase positive networks
Dr Deborah Jump, Senior Lecturer in Criminology at Manchester Metropolitan, who established Getting Out For Good, said: "We set up a whole new boxing session on a Tuesday night which is female only.
"We welcome not just those on the Getting Out For Good programme but other young women from the community as well. The whole idea is to increase their positive networks.
"We often find young people get labelled and what is original about this project is that although, yes, we identify that they need additional help through this bespoke programme, we also encourage them to get involved in the community and in an open sporting session where they will be with other young women who might not necessarily be facing the issues they are.
"Those who have been referred to the Getting Out For Good programme come with a specified mentor and will receive an AQA qualification in boxing skills from the University.
Raising aspirations
"This is about raising aspirations and increasing young people's social capital: as much as you have an open sports session, some of the girls may not be able to afford the bus fare, or feel too nervous or too vulnerable to go alone and so can turn up with a mentor, or might not be attending school and so with the programme have the opportunity to accrue the qualifications that some other young people might be getting.
"We've created this wrap-around service where we embed them in open, local provision and they benefit from additional support from the Getting Out For Good project.
"The girls say they get confidence from the sessions and they think it's physically difficult but fun and it is getting them fit and helps them get their anger out.
"The Sport Relief filming session was a fun and sociable event and the celebrities received some training along the girls from the club's boxing coach Tommy McDonagh."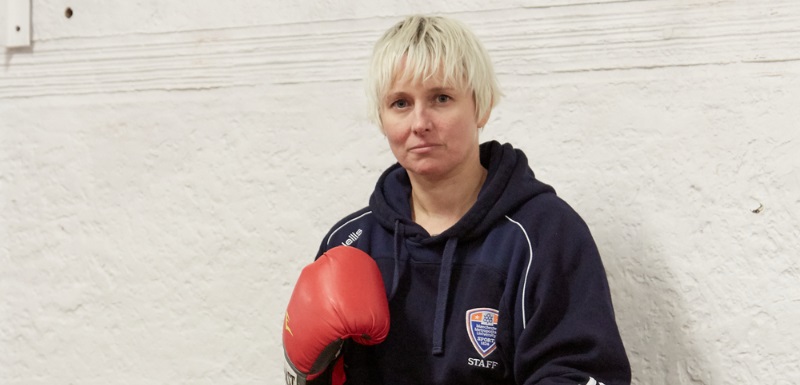 The boxing session takes place at Collyhurst and Moston ABC, based at Moss Side Fire Station, and it was there that the camera crew shot the footage of the girls and celebrities training with the young women and interviewing them for inclusion in Famously Unfit… for Sport Relief.
Thirty-nine girls so far have engaged with the project and 12 have gone on to obtain the AQA qualification.
The Comic Relief funding covers the participants' weekly subscriptions to the activity sessions, the cost of the specialist equipment and the transport to and from the sessions – meaning the programme is free for those girls taking part.
Dr Jump said: "The boxing club started because Tommy and I already had a working relationship.
"Tommy had done work with the University's Manchester Centre for Youth Studies and I am known as a researcher on the boxing circuit.
"When I wrote the bid for Comic Relief funding, it was always the idea that I would write in grassroots community projects such as Collyhurst and Moston Boxing Gym, Manchester City FC's City In The Community and MaD Theatre Company because we felt that sport and culture were the things we could use to divert young people away from negative choices and anti-social behaviour.
"The young people did not know each other before this project but boxing in particular has a way of really creating an idea of creating fraternity or sorority – someone can come along to the boxing gym and not box but still feel like they are part of a family."
BBC spotlight
Dr Jump is conducting an evaluation of the project for research purposes as part of the rollout of the Getting Out For Good intervention programme in order to get an insight into the real difference the project has had on Manchester's young women.
She said: "Being featured on Famously Unfit… for Sport Relief will raise the profile of Getting Out For Good further.
"We've been put into the spotlight to help raise money for the community, which is great for the young women, the University, the city of Manchester and for Sport Relief."
Famously Unfit… for Sport Relief will be broadcast on Sunday, March 18, at 9pm on BBC Two as part of Sport Relief, which this year will culminate in a week of activity from March 17 and 23.
Sport Relief brings the nation together to get active, raise money and change lives and this year is asking the great British public to take part in a national challenge to beat a billion steps a day, everyday, for the week of Sport Relief.