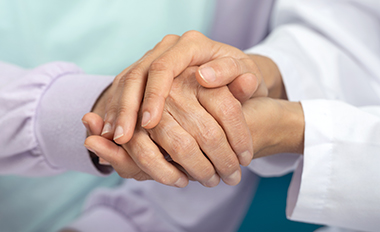 The Welsh Government has announced new regulations to curb zero-hour contracts for thousands of home care workers, following research from Manchester Metropolitan University.
The regulations ensure care staff who look after people in their own homes are more secure in their employment, while people receiving care experience the best possible services.
Improving working conditions
Through research commissioned by the Welsh Government, Manchester Metropolitan's Centre for Decent Work and Productivity estimated between 56% and 80% of the domiciliary care workforce in Wales were on zero-hours contracts.
This was shown to have a direct link to the quality of care as workers face insecurities around their time being cut short because of travel between visits and losing hours when service users are admitted to hospital.
Professor Carol Atkinson, Associate Dean of Research at Manchester Metropolitan Business School, said: "We analysed the experiences of care commissioners, care providers and care workers in Wales along with a range of factors affecting care such as the number of service users, the number of workers and the amount of hours worked each year.
"As a result of our research we were able to provide the Government with the evidence it needed to inform new regulations which will have a significant impact on carers and service users across the country."
Safeguarding care quality
The new regulations support good employment practices by requiring providers to give domiciliary care workers a choice of contract after a three-month period of employment.
Providers are also required to ensure that time allocated for travel and care is clearly and transparently set out, so that care time and therefore the quality and continuity of care is not affected by the need to travel between visits.
Huw Irranca-Davies, Social Care Minister for Wales, said: "The new regulations coming into force are designed to support continued improvement in the care sector in Wales.
"They offer staff in the social care sector a fairer deal and help to safeguard the quality of care and support which people receive in their own homes."
Influencing policy
The Welsh Government and the Care Council for Wales commissioned Manchester Metropolitan to explore the factors that affect the recruitment and retention of domiciliary care workers and the impact this has on the quality of domiciliary care.
Published in 2016, the research focused on employment terms, conditions and career structures, with a particular focus on workforce development, pay, employment security and working time.
The research team also considered worker motivations and occupational status as important influences on care worker recruitment and retention.
The full publication "Factors that affect the recruitment and retention of domiciliary care workers and the extent to which these factors impact upon the quality of domiciliary care" is available online.