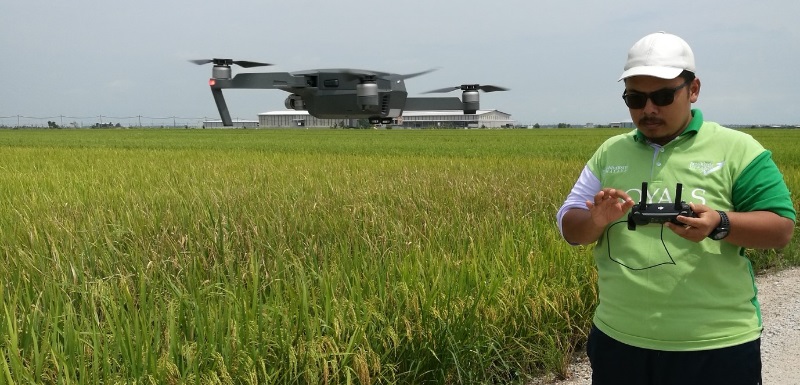 Drones using artificial intelligence can automatically detect diseased rice crops in real-time to help farmers address global food shortages, tests by university researchers show.
The aim is to provide food producers with a quicker, easier and more reliable method of diagnosing infected arable plants by using machine-learning techniques from the air than by the traditional on-the-ground human assessment.
Losses of crops due to pests and diseases is a big threat to the world's food supply, and it is envisaged earlier diagnosis and intervention will improve crop survival rates and boost harvests – cutting waste and making more food available to the market.
A research team from Manchester Metropolitan University has been trialling the Big Data and artificial intelligence technology on rice paddies in Malaysia, with a team from the University of Malaya in Kuala Lumpur.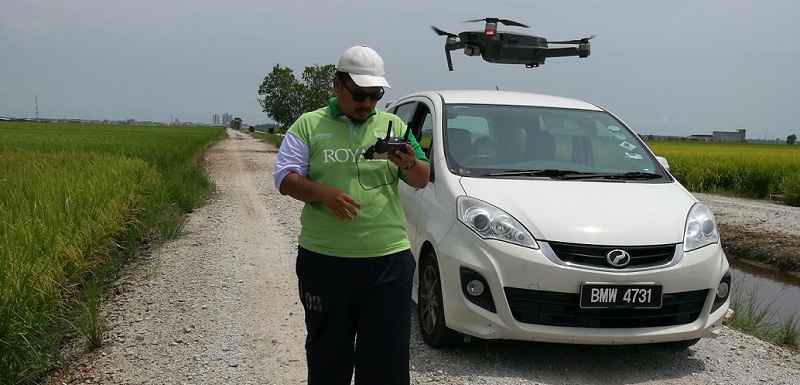 Human inspection is flawed
Lead researcher Liangxiu Han, Professor of Computer Science at Manchester Metropolitan University's Department of Computing and Mathematics, said: "The yield losses of crops due to pests and diseases are a major threat to global food security, causing serious economic, social and ecological problems.
"In Malaysia alone, 15 to 20 per cent of the total rice area is estimated to be infected with diseases, and the estimated economic loss caused by bacterial leaf blight diseases between 1982 and 1994 was approximately RM 50 million (£9.3million).
"The current practices for crop disease diagnosis in Malaysia mainly rely on human inspection of symptoms in fields, and in the vast majority of cases, the diseases exhibit a range of visual symptoms such as coloured spots.
"This is labour-intensive, costly and time consuming, leading to inaccuracy and bias, especially with inspection of large fields."
Machine-learning helps detect diseases
Professor Han and her team have developed software for use on a smartphone or tablet which processes aerial images captured by a camera mounted on a drone bought off the shelf.
Their program uses machine learning to analyse the photographs and make comparisons with a cloud-based archive of bird's eye pictures of diseased crops, providing immediate diagnosis.
The software is adapted from the team's earlier Big Data system that automatically detected wheat crop disease from a photograph in near-instant time.
That version relied on a user on the ground taking a picture of an individual leaf but the drone version can identify patches of diseased plants over a much larger area from the air, such as a whole rice paddy.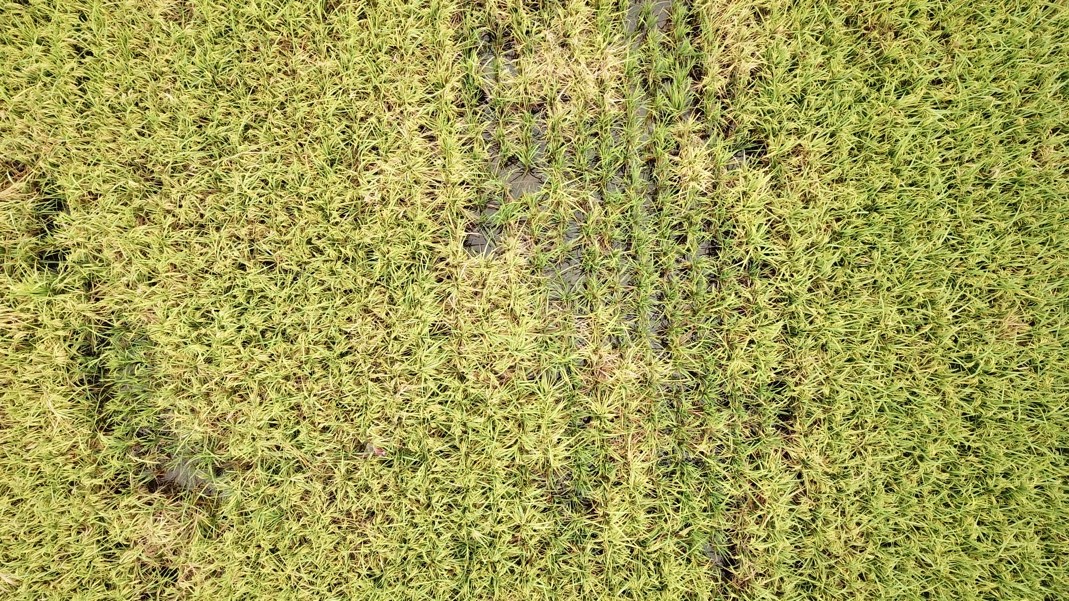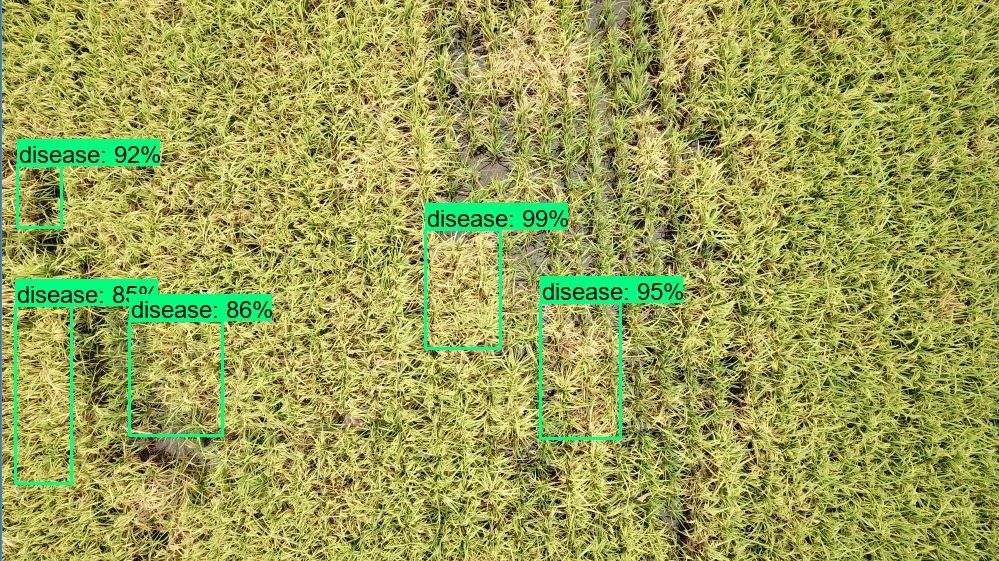 Advances in Big Data
Professor Han explained: "Automatic, accurate and early diagnosis and quantification of crop diseases are crucial for precision crop management, allowing targeted interventions.
"In collaboration with our partners in Malaysia, this project makes advances in big data, image processing, machine learning and artificial intelligence, and cloud computing.
"It develops a novel automated system for accurate and timely diagnosis and severity assessment of bacterial leaf blight (BLB) diseases in Malaysia rice production, based on large-scale images taken from an unmanned aerial vehicle and smartphones.
"This will enable faster prediction and better management of outbreaks, leading to smart digital agriculture with cost reduction, improving food security and sustainability, and supporting needs and strategies of both the UK and Malaysia."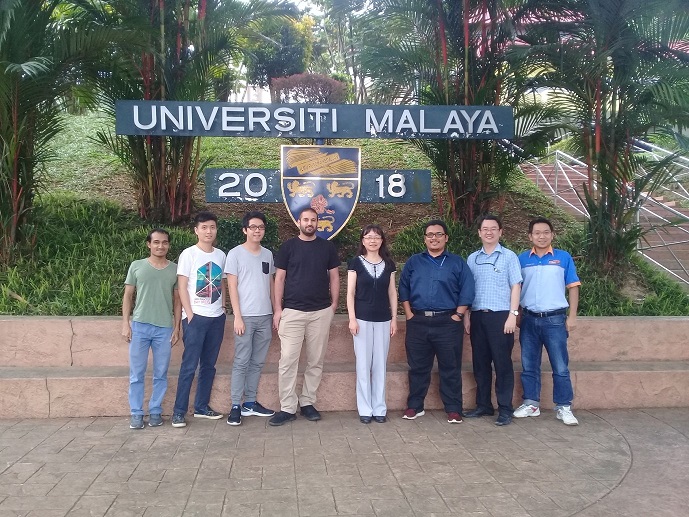 Solution for farmers
Co-investigator Dr Muhamad Shakirin Mispan, from the University of Malaya, said: "Around 400,000 small farmers in Malaysia depend on rice cultivation and these farmers can immediately use our solution for increasing productivity and reducing the costs.
"Public sector organisations such the Malaysian Agricultural Research and Development Institute and Malaysia's Department of Agriculture can use our solution to provide better services for farmers.
"The department can use the outputs for shaping the regulation and government policies on agriculture and rice."
Professor Han and her Manchester Metropolitan University team will train their software to be able to detect different diseases in a variety of crops.
They intend to develop further features such as diagnosis from moving footage and an interface that allows the software to control the drone remotely.
The researchers ultimately want to correlate multiple data sources such as images from drone photography and footage, satellite images from above the land, and ground-sensing data such as mobile telephone photography, and other relevant data in the field, into one system to tackle global challenges in food security.
The work is supported by Newton Fund Institutional Links grant ID 332438911 under the Newton-Ungku Omar Fund partnership. The grant is funded by the UK Department of Business, Energy and Industrial Strategy and the Malaysian Industry-Government Group for High Technology and is delivered by the British Council.
The £150,000 project began in April 2018 and will finish in March 2020.