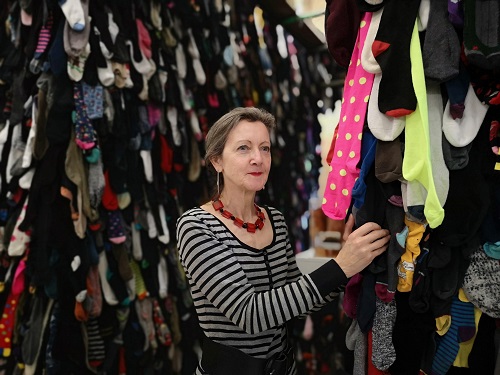 September – refugee art, Young Voices recognised, Full Cell Innovation Centre launches
September was a month packed with research activity as colleagues returned from the summer break. Dr Sarah Parry learnt that her research was shortlisted for a Times Higher Education Award. Her Young Voices project, which explores the experiences of young people aged 10 to 18 who hear voices, was shortlisted for Research Project of the Year in Arts, Humanities and Social Sciences.
Lord Mandelson attended the launch of the Manchester Fuel Cell Innovation Centre – a £4.1m facility dedicated to developing new sources of green, emission free energy and making it available to as many people as possible.
Professor Alice Kettle from the School of Art launched an exhibition of monumental textiles that shine a light on refugee voices. 'Thread Bearing Witness', which is open until 24 February, presents a series of large-scale textile works that shine a light on refugee displacement. These are informed by personal testimonies from many individuals seeking asylum in the UK; those living in refugee camps and groups working to support refugees.
Why do some species of male mammals have bones in their penises? It is a question that has now been solved thanks to innovative 3D scanning and modelling by researchers at the University. Research Team leader Dr Charlotte Brassey said: "Our study is particularly novel in taking a 3D approach to understanding the evolution of the penis bone.
"The reason natural historians are so fascinated by bacula is because they have lots of unusual features: odd ridges and grooves, strange curvature and bizarre-shaped tips.
"However, all of the previous attempts to study the baculum have simplified the bone into very basic measurements of length and width, and have ignored all this important shape information. Ours is the first study to use a 3D engineering approach to test the mechanical performance of the penis bone."
Prof Cathy Parker from the University's Institute of Place Management was one of three witnesses to give evidence on the first day of a Parliamentary inquiry into the future of Britain's High Streets. She explained how those responsible for shopping areas need to understand their local conditions in order to decide if a particular intervention is going to work - which makes spreading 'best practice' difficult because what succeeds in one place may automatically not do so in another.
Researchers from the Advanced Computational Science research centre, launched a £6 million cyber security scheme that will protect Greater Manchester's small and medium-sized companies against malicious computer attacks.
Manchester Metropolitan Vice-Chancellor Professor Malcolm Press said: "The GM Cyber Foundry will play a key role in protecting the region's businesses, and preparing them for future digital challenges. Universities have an important part to play in ensuring SMEs can thrive by transferring cutting-edge technology, research and bespoke products directly to those who need it. Our strong relationships with business in the city-region, partnered with quality research in this area, ensure that Manchester Metropolitan is ideally placed to lead on this important initiative."
October – Festival season: lapsed clubbers, beat AI border control, encounter corpses
In October, researchers took part in two large scale festivals that took place across the city.
The ESRC Festival of Science saw Professor Craig Young host the Encountering Corpses, which is now in its fourth year. The event examined the many ways we interact with the material remains of the dead in contemporary society.
Dr Maz Idriss showcased latest findings and recommendations from his roadshow on Honour Based Violence to policy makers and stakeholders.
Ravers who went clubbing between 1985 and 1995 were invited to have their memories captured for posterity and loaded to a digital app.
Can you fool an AI lie detector? At the Manchester Science Festival, members of the public were invited to attempt to get past iBorderCtrl – a virtual border guard that uses artificial intelligence to work out whether people are lying about who they are and why they are travelling.
Other events included 7,000 socks suspended in Manchester Central Library to raise awareness of the number of lower limbs amputated in the UK due to diabetes.
Tests by university researchers found that drones using artificial intelligence can automatically detect diseased rice crops in real time to help farmers address global food shortages.
The aim is to provide food producers with a quicker, easier and more reliable method of diagnosing infected arable plants by using machine-learning techniques from the air than by the traditional on-the-ground human assessment.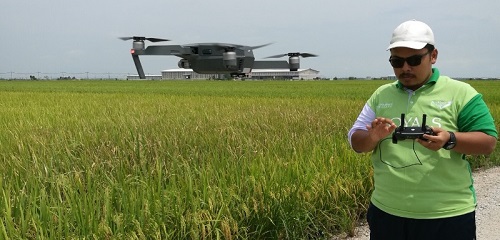 Oral infections such as candidiasis are common among older adults, and it affects many people who wear dentures causing difficulty eating and drinking. Researchers found a way to prevent such infections with 'rechargeable' bacteria-killing and fungi-killing dentures.
Researchers in the Manchester School of Architecture have been awarded second place in the 2018 global Smart Ageing Prize for their project, PlaceCal. PlaceCal is a community events calendar designed to help people find out everything that is happening near them, all in one place.
Its aim is to connect community residents and service providers with the small everyday events that are hard to discover but can be lifesaving for socially isolated older people, such as coffee mornings, sewing groups and computer classes.
A new study funded by the British Academy found that personalising feedback on weight and obesity is more likely to result in a change in behaviour and increased physical exercise. Over a period of two to seven years, researchers found that health messages and interventions tailored to individuals could be an effective way of tackling obesity.
Researchers have been developing an all-in-one portable device to treat sports injuries. The lightweight Swellaway, backed by Wayne Rooney, has been drawing on University research through a Knowledge Transfer Partnership, to develop the device further.
A new government policy announced to help local high streets evolve and adapt to the many changes facing towns and cities drew on research from the Institute of Place Management. The policy will see local areas compete for up to £25m of funding to regenerate and improve high streets and town centres. An investment of up to £55m to support the regeneration of heritage high streets is also included in the announcement.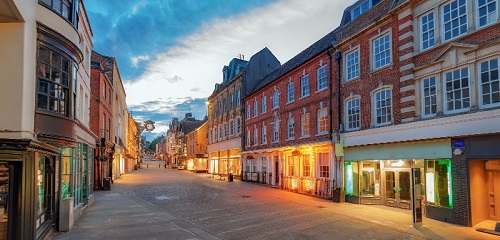 Dr Helen Underhill was awarded a British Academy Small Research Grant to explore fire safety and response in refugee camps in Lebanon as part of a new project to improve fire risk education.
Looking at gender and social dynamics, the project will also provide an insight into the scale and nature of fire risk for already vulnerable populations and groups, exploring how individuals' experiences of fire can impact their lives.
November - marking Armistice, drinking among, older people, low sugar milk drinks
Professor Carol Ann Duffy wrote a poem to mark 100 years since the end of the First World War. The moving piece, called The Wound in Time, was read aloud on Remembrance Sunday on beaches across the country as thousands of people gathered for the Pages of the Sea public art project.
A new report found that than half of female survivors of sexual violence in Greater Manchester have not been able to access the support they need. Led by Dr Kate Cook and Becky Clarke, a team of researchers spoke to nearly 400 female survivors of sexual violence in Greater Manchester via focus groups, roadshows and online questionnaires about their experiences.
Research from Dr Rob Ralphs was cited extensively in a parliamentary debate on the reclassification of synthetic cannabinoid drugs. During the debate, Ronnie Cowan, the Scottish National Party MP for Inverclyde, quoted extensively from Dr Ralphs' contribution to drugs policy think tank Volteface's report arguing against potential reclassification.
Are we failing older people with drinking problems? New guidance from leading academics and a UK-based alcohol charity has urged health and social care practitioners, including substance use specialists, to rethink the needs of older people with drinking problems.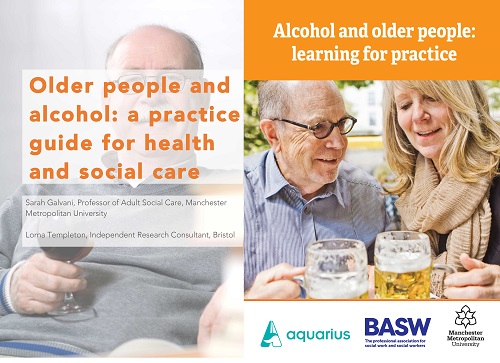 Professor Sarah Galvani who led the research said: "Older people seeking treatment for alcohol use are often in poor health and have a range of complex social, health and other care needs associated with their substance use. Evidence suggests that the complex health and social care needs of older people with problem alcohol use requires a different approach."
Research from nutrition experts found that schoolchildren prefer low sugar chocolate flavoured milk to the full sugar equivalent. Researchers at Manchester Metropolitan University set out to find a suitable low sugar drink for children to drink in schools after physical activity instead of the alternative high sugar sports drinks.
Milk proved to be an effective post-exercise hydration drink, with chocolate-flavoured milk being even more popular with the 56 schoolchildren, aged four to 10, questioned as part of the study.
Elsewhere, research revealed the hidden symptoms of Parkinson's Disease that are more prevalent than once thought and have a major impact on people's daily life.
Scientists at the University have found that auditory and visual hallucinations in Parkinson's disease, a progressive neurological condition, and associated conditions, such as dementia with Lewy bodies, which is a type of dementia that shares symptoms with both Alzheimer's and Parkinson's disease, are present in a substantial proportion of people with the condition.
December - distressed denim, aviation and climate change, Tim Peake's continued influence
Our academics showed no signs of slowing down as the year drew to a close. Professor Dave Lee from CATE submitted scientific evidence on aviation and climate change for government policy objectives.
A report from Dr Su Corcoran and Dr Sarah McNicol found that Tim Peake's time in space inspired primary pupils to engage in more STEM subjects, and continues to do so. Dr Corcoran said: "We found the project had a significant impact on pupils, teachers, schools and Space Ambassadors involved with the project as well as the wider community.
"As a trained physics teacher, I know how the topic of space captures the imagination of children. Tim Peake offered schools a unique opportunity - as the first British astronaut on the ISS, the media coverage of his mission, experiences and return was extensive and widely accessible, even to primary pupils.
"Respondents told us about how excited pupils were seeing coverage of Tim Peake at home with their families, showing that the impact went beyond the classroom."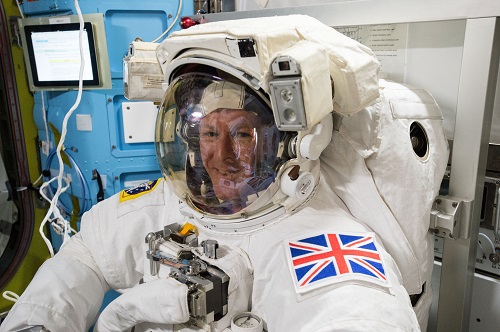 A prototype of wireless earbuds that combats disability stigma was developed at Print City. The earbuds were developed by Ellen Parry, a student at Manchester Metropolitan University. She said: "My mission is to encourage social inclusion through my designs, to create improved situations for everyone. The driving principle behind creating HeX earbuds was to create a hearing device that is for everyone – whether you live with hearing loss or perfect hearing.
"People with disabilities often feel excluded and conspicuous because of their medical devices, so I want to transform hearing aids into a desirable wearable tech product that gives people enhanced hearing, style and confidence – something that anyone might want to wear.
"3D printing enables us to manufacture them quickly and relatively simply, so HeX earbuds could be easily produced for a mass audience."
Finally, researchers found that distressed denim can be produced to a high standard without harming the planet, thanks to an environmentally friendly, chemical-free laser etching method.
A collaboration between the Manchester Fashion Institute and the School of Healthcare Science, showed that carbon dioxide laser can create high quality faded and patterned denim effects, altering the colours of the fibres by vaporising the dye – without compromising the strength, colour, or quality of the material.