The Research Centre hosted an event focused on the UK's Industrial Strategy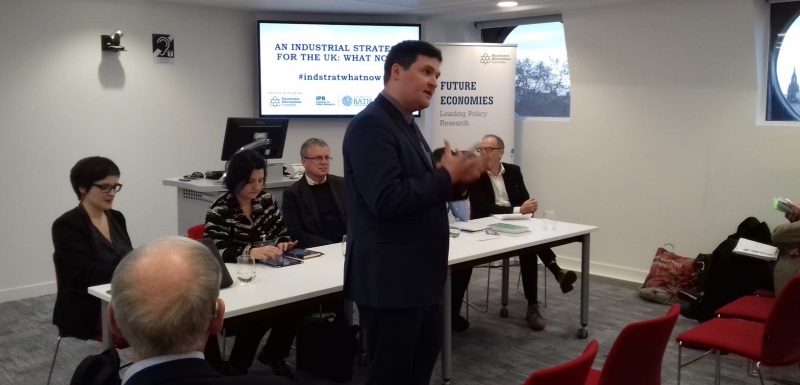 Earlier this week, researchers from Manchester Metropolitan's Future Economies Research Centre hosted a workshop in central London focused on the development of the UK's industrial strategy. The event, 'An Industrial Strategy for the UK: What Now?', was co-hosted by the University of Bath's Institute for Policy Research (IPR), with the support of the British Academy.
The event was convened by our assistant director Dr Craig Berry, with Professor Nick Pearce of the IPR. Craig and Nick were joined by a range of academic and policy experts, including:
Chris White, director of the Institute for Industrial Strategy at KCL, and former Member of Parliament for Warwick and Leamington Spa
Tera Allas of the McKinsey Global Institute
Michael Jacobs, formerly director of the IPPR Commission on Economic Justice
Kate Bell, Head of Economics at the TUC
Ozlem Onaran, director of the Greenwich Political Economy Research Centre
Andy Pike, co-director of CURDS at Newcastle University
Phil Tomlinson of the University of Bath
Rachel Laurence of the New Economics Foundation
The attendees were joined by a stellar audience of experts and stakeholders, including Matthew Taylor (chief executive of the RSA), Dan Corry (chief executive of New Philanthropy Capital), Alison Fuller (UCL), Maria Savona (University of Sussex) and Ron Martin (University of Cambridge), as well as government officials and members of the business community.
The discussion focused on five key areas:
The success to date of the May government's industrial strategy
How to create robust industrial policy institutions at the local and national levels
The skills investment necessary to capitalise upon the new wave of technological innovation
The conceptual efficacy of 'industrial strategy' as a way of thinking about managing modern economies
The political and economic coalition necessary to sustain an industrial strategy
For more information, contact Dr Craig Berry, or download his recent ebook What We Really Mean When We Talk About Industrial Strategy.