Dr Nicola Edwards has been recognised for her work in science research and outreach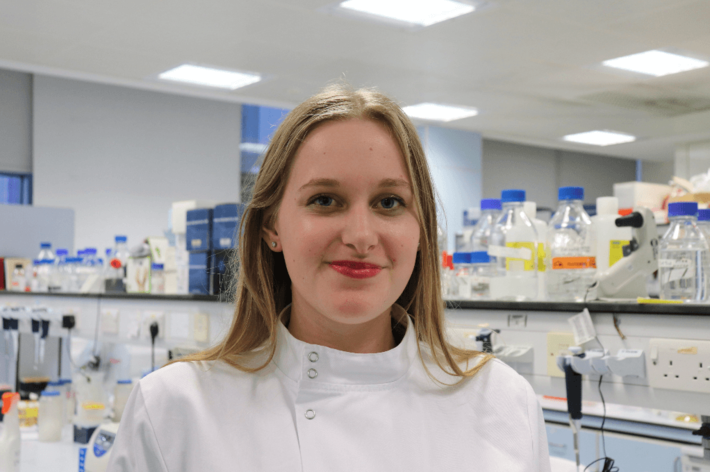 Dr Nicola Edwards, Post-doctoral Research Associate within the Faculty of Science and Engineering, is named as one of Manchester's 30 Under 30 for 2019.
The academic, who has just completed her PhD with Manchester Metropolitan University and joined them full-time as a researcher, was recently featured in A Magazine's annual '30 Under 30' special edition.
Each year, the publication selects 30 of Manchester's most remarkable individuals, under the age of 30 years old, and celebrates their most notable achievements.
Dr Edwards, who was put forward for the accolade by her mum, was recognised for her outstanding contribution to science outreach in the local community.
She said: "I am really pleased to have been chosen as one of the City's 30 under 30 – although it certainly came as a huge surprise.
"Outside of my research and work at the University, I support schools and groups within the local community, running initiatives and putting on activities to help young people engage with science.
"When I was younger, I had no idea that there were so many opportunities available to me from pursuing science as a subject of study. I know I would have benefitted from a mentor or someone to guide me and teach me about all the subject had to offer, and that's what I hope I can do for the young people I work with."
Having completed her PhD at the University last year, Nicola is now continuing her work studying the effects of inflammatory diseases on the blood vessels within the Cardiovascular Research Group. She hopes to gain valuable research experience and has ambitions to one day command her own laboratory.
The aspirational young scientists also hopes to inspire the next generation of scientists, acting as STEM Ambassador and mentor.
She added: "My outreach work can include anything from attending and speaking at career fairs and in schools, to campaigning to get more females in science. I also mentor young girls from low-income backgrounds, helping them prepare for their futures and achieve their goals.
"I believe it is important that individuals from all backgrounds are aware of the different pathways available to them and I want everyone to have equal opportunities.
"I was the first person from my family to go to University, and I have had to break a number of glass ceilings throughout my education – but I want others who might find themselves in the same situation to know that it is possible.
"I am proud of all I have accomplished so far and want to help others get to where they want to be, even if it means breaking barriers, just like I have managed to."