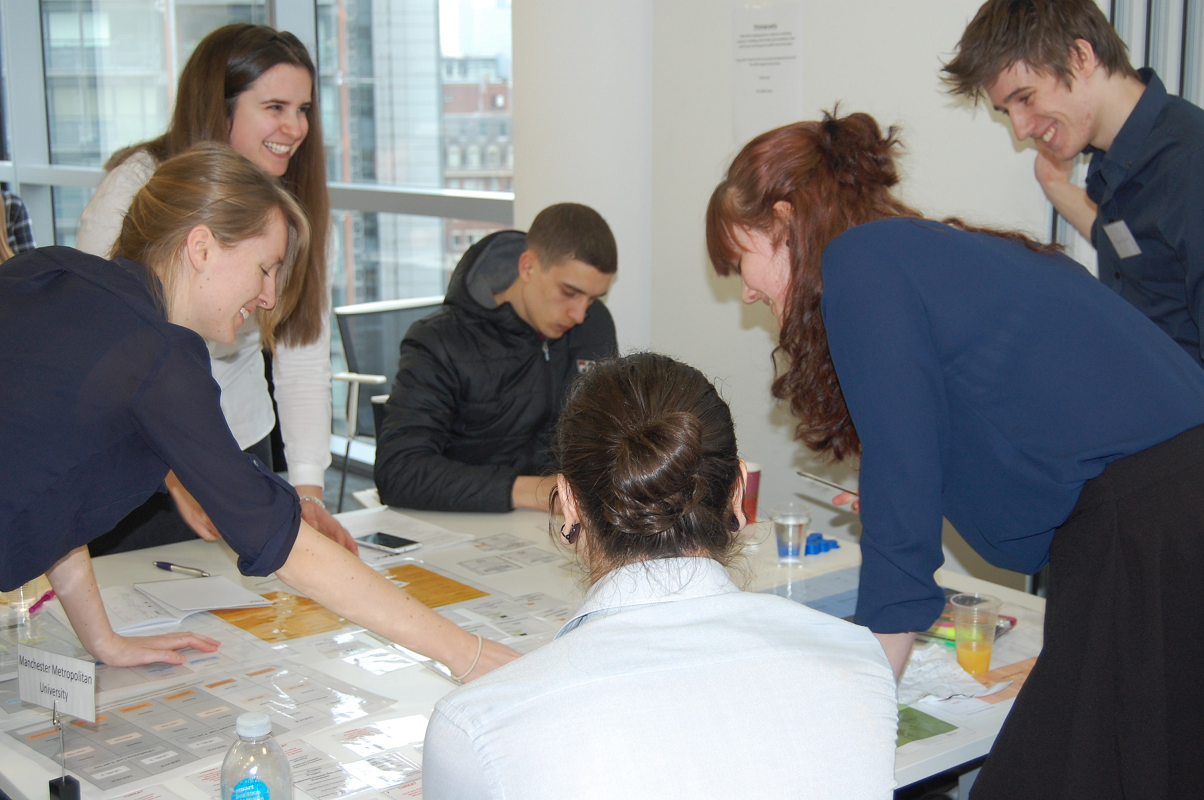 Students from a range of disciplines worked together to achieve 3rd place at the FDM IT Challenge
FDM Team Meet
A team of students from a range of Science and Engineering courses at Manchester Met recently took part in the 'FDM Team Meet' IT Project Management Challenge, alongside teams from Sheffield Hallam, University of Leeds, University of Bradford, and Leeds Beckett. FDM Group is the UK's leading IT graduate employer with a dynamic careers programme offering award-winning training opportunities. The team from Manchester Met consisted of Antonia Albert (Biomedical Science), Luke Skilander (Chemistry), Sam Curless (Chemistry), Eleanor Weekes (Computer Animation & Visual Effects), Thomas Rutter (Computer Animation & Visual Effects), and Natasha Pederson (Wildlife Biology), who finished in third place following a fantastic collaborative effort. We are extremely proud of the achievements of the team and below, Antonia and Luke have described their experiences on the day.
Student Feedback
Antonia Albert
"The competition was based around IT project management (similar to Monopoly, only with a fixed budget). Teams had £150 and 14 rounds to get their projects up and running. The goal of the competition was to get as many projects on the market as possible - since they were earning 'value' for the team each turn once they were on the market – while simultaneously saving as much money as possible. In order to get a project on the market, it had to go through 4 phases: design, build, test, and release. Each phase needed workers, who had to be bought, then trained. Our team had 18 projects in total, each with different values, which brought difficulty in terms of the number of workers needed to finish it. The team who had gained the most overall value (sum of the 'value' earned by each project on the market plus money saved) by the end of the game won.

We all had a great time, and I think MMU had one of the most excited and enthusiastic teams. We finished in the 3rd place, with the winning spot going to University of Leeds. Overall, it was a pleasurable experience. We were all expecting something else more "dry" so were delighted to take part in such a highly engaging game. We are grateful for the support offered in putting our team together and for the amazing opportunity to bond with others while being introduced to the practicalities of the digital world."
Luke Skilander
"The day was fantastic - the FDM employees working with us that day were a nice team and very friendly. They began by explaining the basic game rules, before going into more depth, and then allowed us to complete a trial project (game terminology) which was a great way to get a general gist of the game.
During lunch, we were able to talk to the staff and the contestants from other universities, and we used the time to enjoy some food as well as beginning to plan our game strategy.
When the game began we found worked very well as a team. We were unknowingly discovering what it is like to run a project from start to finish in a company, and all the departments that are involved in doing so, along with how much work it takes to maintain already completed projects. In one of the early rounds, we made a mistake and we quickly learnt how one simple mistake affects how the ball rolls when creating and managing a project. In the end we finished in 3rd place, with the University of Leeds team coming 1st.
Overall, I think that the day was a success. We, as a team, came together and I think we all gained skills in working collaboratively, and we definitely all gained great experience. I think that if our university were to participate in this again, the students participating will indeed enjoy themselves and come out of it with new skills."