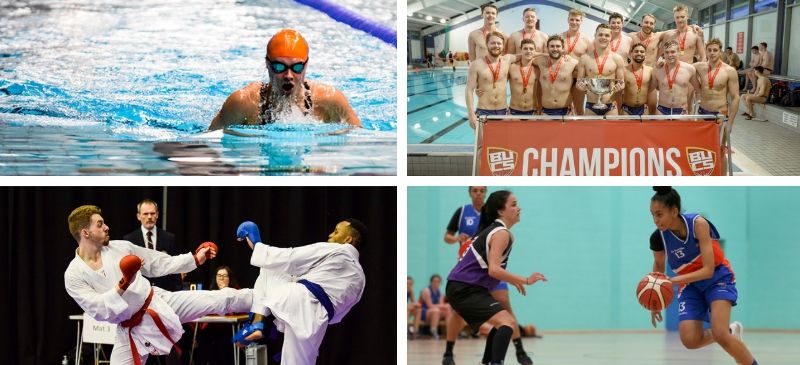 MMU Sport is celebrating after another successful finish to the British University and Colleges Sport (BUCS) season.
Nine clubs have secured promotion with three of the clubs making it into the BUCS premier divisions – the highest league in the competition.
Both women's basketball and women's water polo are amongst those going into premier divisions after an impressive season, going unbeaten all year, winning 10 out of 10 games.
Men's water polo has also had a lot to celebrate after not only winning their league but going on to become BUCS national champions, at BUCS Big Wednesday, for the second year running.
Seven members of the team also went on to represent the England men's senior squad, where Sports Scholar Dan Paddon made a special debut as the team's captain.
Individual success
Individual athletes have also had a successful season, gaining 30 medals between them with particular success in swimming, karate and cycling.
MMU Sport swimmers secured their most successful results at the BUCS Short Course Championships with an incredible 12 medals and accumulated 104 BUCS points. They continued the success at the BUCS Nationals where athletes won 10 medals as well as a further two in karate.
Cyclists Georgia Hilleard and Georgia Holt also claimed four gold medals between them in this year's BUCS Track Cycling championships.
The athletes secured a total of 299.5 individual BUCS points – up from 141 points in 2017-18.
Big step forward
Callum Jones, High Performance Sport Officer at MMU Sport, said: "Overall this BUCS season has been another big step forward for our club teams and individual sport athletes. Only three years ago we didn't have any teams in the premier divisions of their sport and we will start next season with six there.
"Just as importantly, we have also seen significant progress across the board of our team sports and throughout the various levels in BUCS with other teams consolidating league positions in challenging conferences.
"Our individual sport athletes have had massive success with almost 300 BUCS points achieved which by itself would put us 18th in this aspect compared to 39th in 2017-2018. This is a reflection on the club partnerships externally, the work of our coaches and performance staff, the academic support provided at Manchester Met, but most important the individual athletes themselves in the way they have balanced everything to achieve so well."
Promoted teams
Basketball Women's 1st – Premier Division
Rugby Union Men's 1st – Premier Division
Water Polo Women's 1ST – Premier Division
Lacrosse Men's 1st
Volleyball Women's 1st
Basketball Men's 3rd
Badminton Men's 2nd
Football Men's 4th
Netball Women's 4th