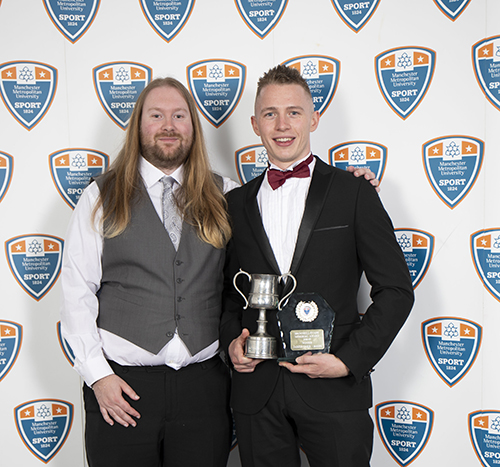 At a glamourous event organised by MMU Sport, the winners of the Sports Awards Ball 2019 were announced.
Held at The Principal Hotel on Oxford Road, over 500 students attended and enjoyed a Hollywood themed evening, compéred by radio presenter Tim Cocker. Guests were treated to a three-course meal, with an after party at The Union.
The awards celebrate sporting achievements and recognise the contribution of coaches and volunteers from elite performance, fundraising events and individual success. A total of 11 awards were up for grabs, with winners including Commonwealth swimmer Chloe Golding who won Sports Woman of the Year and Men's Water Polo who were awarded BUCS Team of the year after becoming national champions for the second year running.
Speaking on Twitter, Chloe Golding said: "Thank you to MMU Sport and MMU Swimming for a fab three years; I am really honoured to be named Sports Woman of the Year. Now on to my final challenge of competing at World University Games in July."
Also presented was the Brownhill-Evans Memorial Award, created in memory of James Brownhill and David Evans. Both young men were active members of a number of student sport clubs, and were sadly killed in a fall while climbing close to Chamonix, France in July 2011. The award, given this year to James Carr from Boxing, recognises an individual who has shown outstanding commitment and contributions to multiple clubs.
The winners from the evening:
Committee Member of the Year
Grace Eyles │ Netball/Taekwondo
BUCS Team of the Year
Men's Water Polo
Non BUCS Team
Dance
Coach of the Year
Rebecca McKinty │ Cheerleading
Event of the Year
Rounders │ Silent Disco
Brownhill-Evans Memorial Award
James Carr │ Boxing
Most Improved Club
Men's Football
Rising Star
Elzabeth Cardwell │ Netball
Sports Man of Year
Will Baxter │ Lacrosse
Sports Woman of the Year
Chloe Golding │ Swimming
Club of the Year
Netball
MMU Sport colours
Liam Hudspith │ Mountaineering
Charlotte Jones │ Rounders
Kate McNally │ Snowsports
Matthew Atkins │ Snowsports
Jessica Peach │ Snowsports
Alice Scott │ Tennis
Iana Kakouli │ Volleyball
Club colours
Sarah Pratt │ Basketball
Clarissa Parkes │ Cheerleading
Nsomi Lau │ Cheerleading
Sarah Bickford │ Dance
Molly Darlington │ Football
Katie Spencer-Jones │ Lacrosse
Mollie Osborne-Richards │ Mountaineering
Rosie Broadhurst │ Cheerleading
Imogen Edwards │Rounders