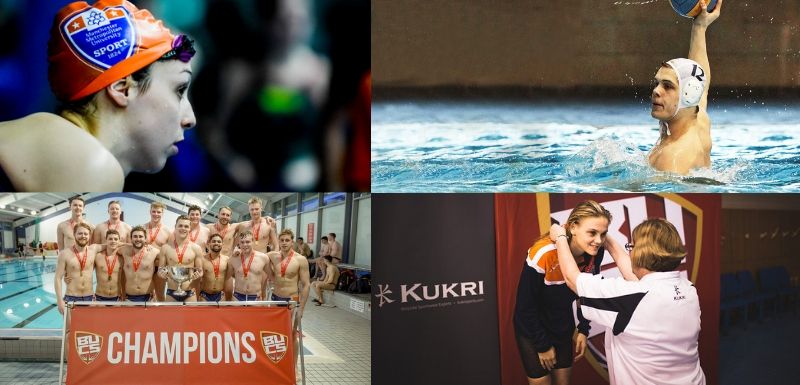 Seven Manchester Metropolitan students have been selected to represent Great Britain at the World University Games in Naples this summer.
Five members of the men's water polo squad will head to Italy, with two MMU Sport swimmers, to compete against the world's top student athletes.
The competition is held by the International University Sports Federation every two years and is the second largest multisport games in the world after the Olympics, with more than 10,000 participants from more than 150 countries.
Swimming
MMU Sport scholars Chloe Golding, who also represented Team England at the 2018 Commonwealth Games on Australia's Gold Coast, and Katie Matts will join the strong team of 14 swimmers at the competition.
On Twitter, Golding said: "Excited to be going to the World University Games this summer – a great way to end my time at Manchester Met."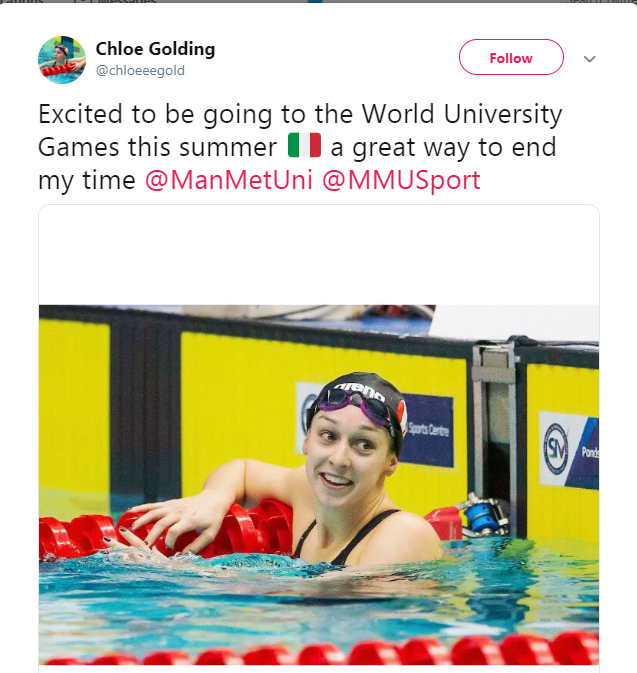 And Matts thanked the University for its support.
Water Polo
MMU Sport water polo scholars Dan Paddon and Jordan Elliot will return to the games two years on along with fellow University team mates, Dylan Green, Michael Patterson and Isaac Wass.
The selection follows a successful year for the water polo team after winning their BUCS (British Universities and Colleges Sport) league and going on to become BUCS national champions, for the second year running.
Seven members of the team also represented England men's senior squad, where Sports Scholar Dan Paddon made a special debut as the team's captain.
Proud
Callum Jones, High Performance Sport Officer at MMU Sport, said: "MMU Sport is extremely proud to have had seven athletes selected to their respective sport's World University Games teams.
"For swimming, Chloe Golding and Katie Matts have been selected after both having excellent seasons for the University at the BUCS short course, long course and team competitions, where between them they won nine medals. They have also both had very successful year in external national and international competitions, all down to their dedication to training, focus and overall talent.
"Their selection helps validate the work undertaken at the University as a Swim England Performance Centre and the relationships with their clubs – City of Manchester Swim Team and Stockport Metros.
"It is also amazing to see five of the 13 members of the water polo team come from Manchester Met. All of the selected players have all made huge contributions to the University team, who not only went through the Premier North division undefeated but also successfully retained the BUCS Championship title this year. They have also had excellent seasons in the national league, which again shows their level of commitment and time management whilst balancing their sporting and academic commitments.
"We wish all of our athletes the best of luck in Naples and look forward to following their progress."
The World University Games is held Wednesday, July 3 – Sunday, July 14.