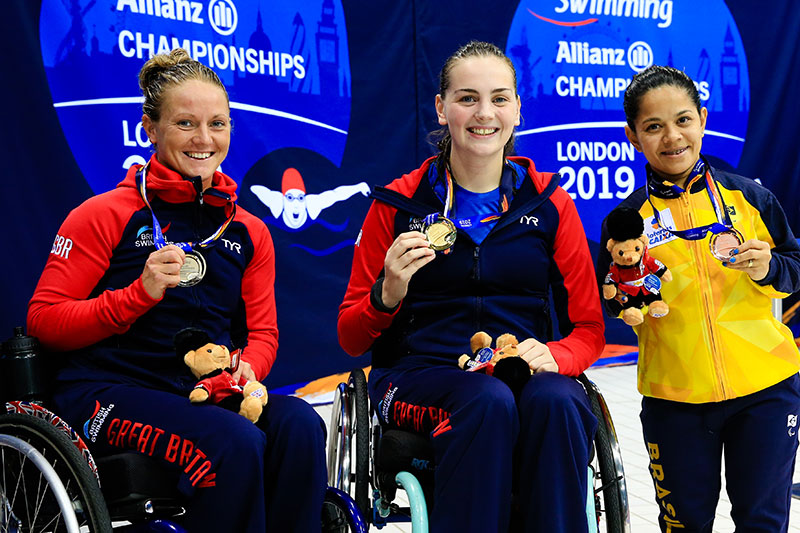 Manchester Metropolitan Sports Scholar Tully Kearney has capped an amazing week with a clean sweep of gold medals at the 2019 Para Swimming World Championships.
Despite spending time in hospital only a month ago, the physiology graduate and masters degree student won gold in the C5 200m, 100m and 50m freestyle races, securing her own championship record in both the 200m and 100m.
Kearney, who trains at Manchester Aquatics Centre opposite the University's city centre campus, was born with cerebral palsy and when she was 13 developed generalised dystonia, a progressive neurological condition.
Last year, after a few years out due to a deterioration in her condition, she returned to full elite-level racing and has since secured medals in both the British Para Swimming International Meet and the European Championships.
Speaking to Channel 4, who broadcast the competition, Kearney said: "There has been so many times this season that I didn't think I was going to make it. Just over a month ago when I was in hospital, quite seriously ill, I kept thinking how am I going to get through this?
"Coming into this competition I knew I wasn't as fit as I wanted to be, but at the training camp I was doing pretty good time in training – my coach even said I was fitter than I should be – but coming into these champs I just wanted to be able to race.
"I was amazed with my performance – I was so happy – the pictures of me punching the water just shows all that emotion. Everything that I've been through finally something has gone right. I've had so many years of disappointment and things being so tough but to finally come through and have that was just absolutely amazing."
This year's competition was held at London Aquatics Centre from September 9 to 15. It was Kearney's third time competing at the championships – in 2015 prior to her deterioration, she won several bronze, silver and gold medals, becoming Great Britain's highest medal earner at the competition. She also competed in 2013.