Elite student athletes benefit from specialised sport and academic support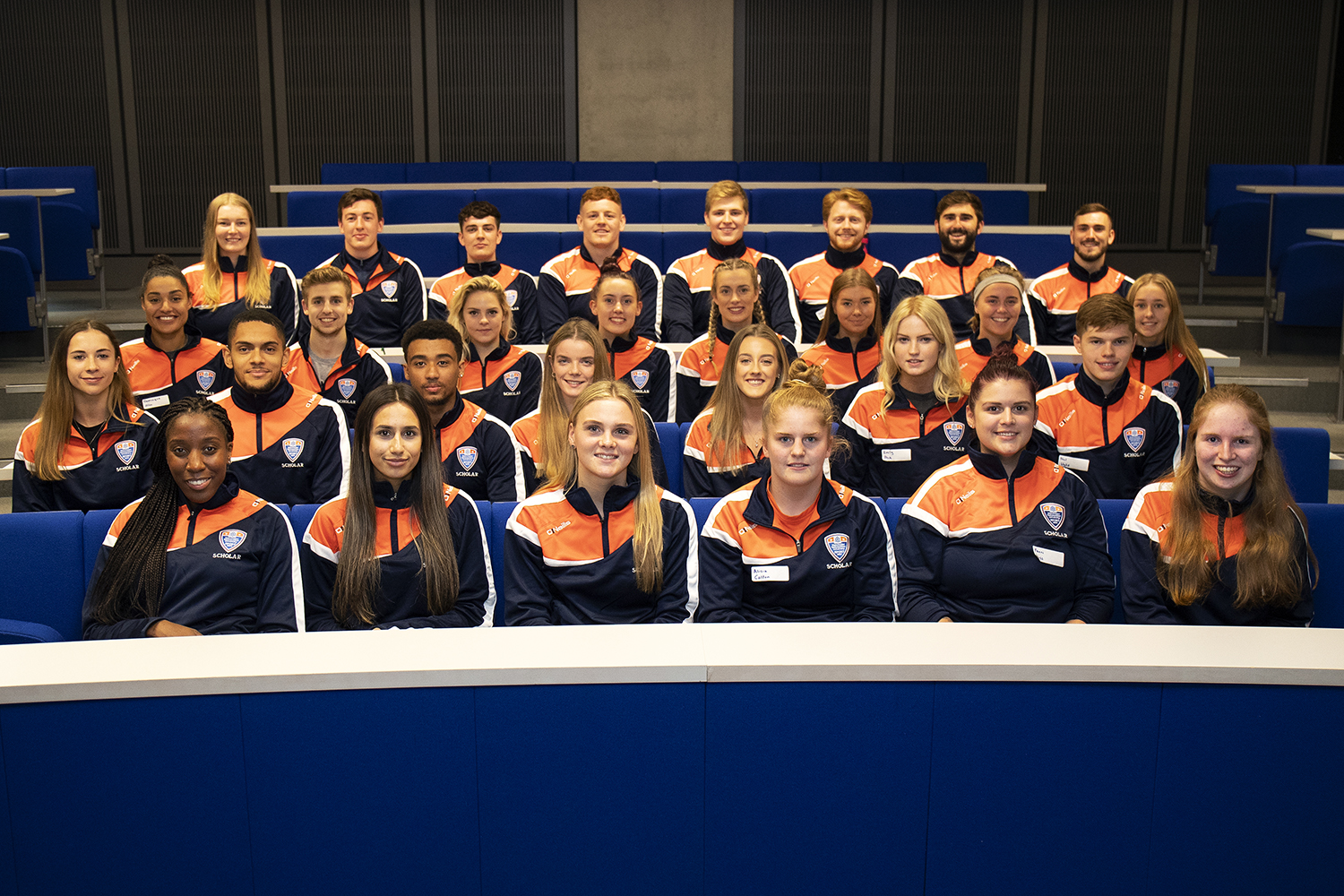 This year's Manchester Metropolitan Sport Scholars have been unveiled by MMU Sport as the University continues to support student athletes to achieve their ambition – in competition and in the classroom.
The 50 scholars and two ambassadors were selected to the programme for 2019/20 following a rigorous selection process. They were officially welcomed over lunch in the Business School, where they heard from the teams in place to support them over the course of the next academic year.
The bespoke scholarship package, which includes nutrition, physiotherapy, strength and conditioning as well as financial support and contributions towards fees, attracted hundreds of applications from athletes around the world – all looking to develop both their academic and athletic potential with Manchester Metropolitan University.
Former Sport Scholars include 800m runner Jamie Webb, who has just competed for Great Britain at the IAAF World Athletics Championships in Doha and multi medal-winning Paralympian Kadeena Cox.
MMU Sport Performance Officer Callum Jones said: "It's extremely exciting to see the level of student athletes that we attract to Manchester Metropolitan University through our scholarship programme.
"It is also great this year to again have sport scholars studying in each of the University's five faculties."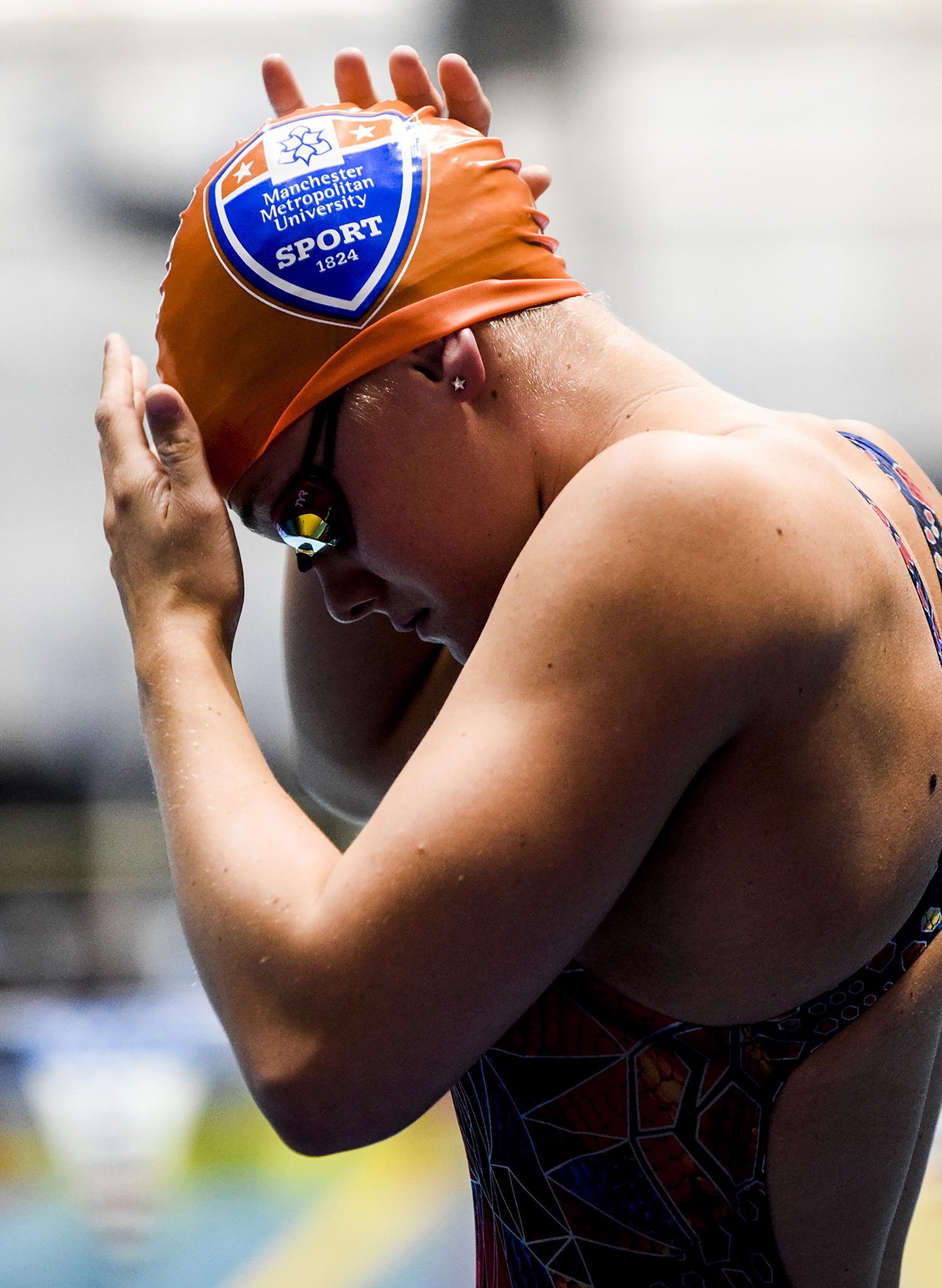 This year's cohort of athletes includes swimmer and sport science student Katie Matts who after an incredible year in the pool, finished the summer with a gold medal in both the 100m and 200m breaststroke at the British summer championships.
Discussing the scholarship programme, Katie said: "The MMU Sport scholarship helps me in numerous ways to continue my dual career in education and elite sport. As a distance learner, I can access my work from anywhere in the world and access to performance services and medical support is an added bonus."
Bradley Nuttall, one of the most promising gymnasts in the UK, also returns as a scholar. He's considered to rank in the top four in the UK, alongside five-time Olympic medallist Max Whitlock.
"Manchester Met helps me with the finance, the training, the conditioning and keeps me in top form," he said.
"It's a great set-up and what's good about the scholar programme is that it makes you realise how good you are. Sometimes you doubt yourself, but I look at that and it reassures me and pushes me on."
Joining Katie and Brad is a variety of new athletes to the programme including basketball player Dominique Allen (pictured below). Dominique has previously represented Great Britain at the 2012 Olympic games and last year helped the team to a silver medal at the Commonwealth Games in Australia.
Callum added: "As well as seeing the development of returning scholars over previous years, we have seen a step change in the athletic level of the newcomers to the programme particularly those competing in individual sports.
"Every year the bar is getting higher and higher, to the extent that we should have several athletes going to Tokyo in 2020.
"The progress with national governing bodies of sport, clubs and coaching has hugely helped this. We look forward to helping all grow as people, students and athletes and celebrate their successes this year."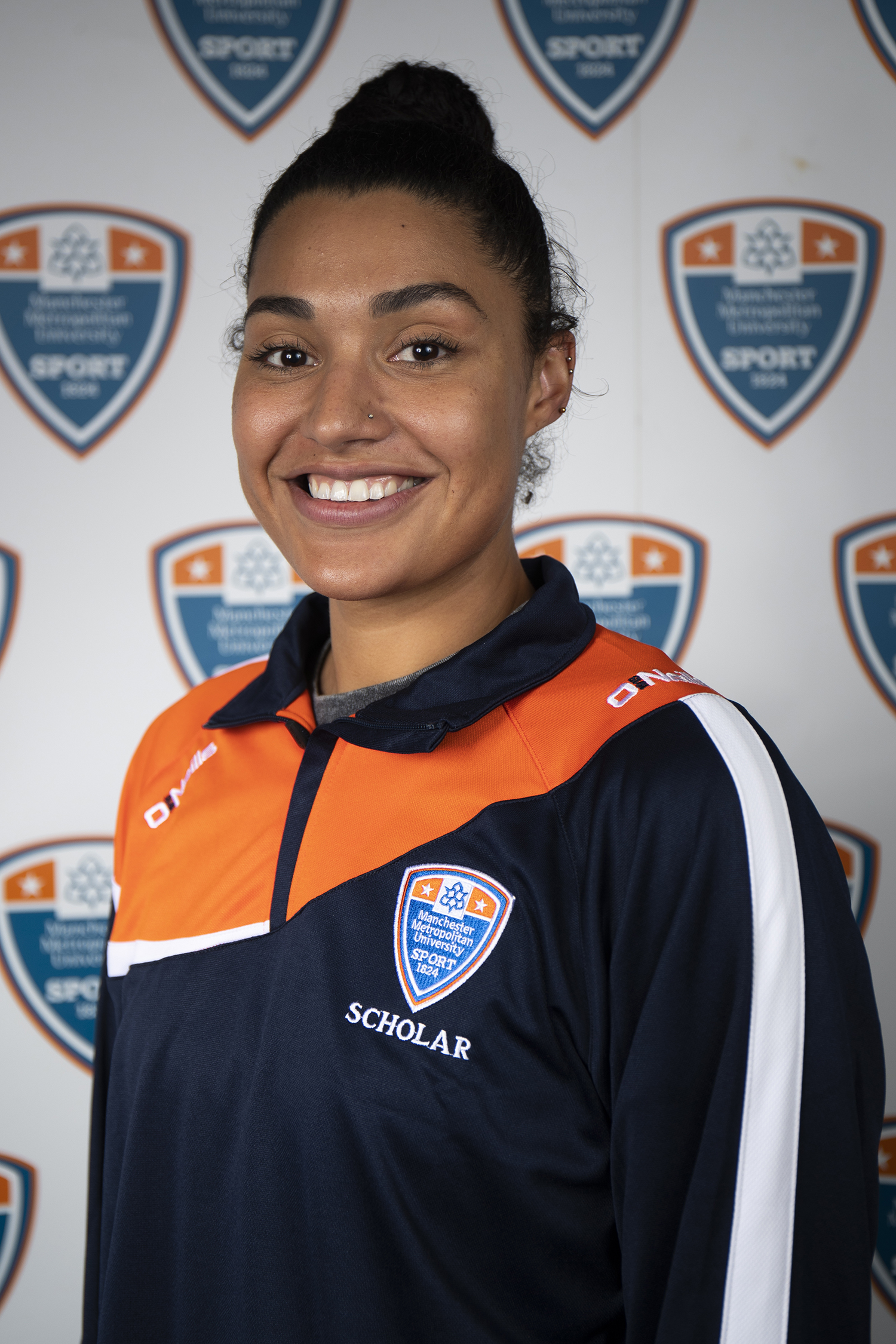 As part of their scholarship package, athletes are expected to compete in their relevant league in the British University and College Sport (BUCS) championships, which starts in October, and will support the University's ambition to become the sporting destination of choice for students all over.
The full list of scholars for 2019/20:
Athletics
Adele Nicoll - MSC PSYCHOLOGY
Sagesse Nguie – BSC (HONS) SPORT, PHYSICAL ACTIVITY AND HEALTH
Kevin Metzger – BSC (HONS) EXERCISE AND SPORT SCIENCE
Basketball
Sara Djassi - MSC SPORT BUSINESS, MANAGEMENT AND POLICY
Samantha Rosco - MSC MANAGEMENT
Dominique Allen - MSC SPORT BUSINESS, MANAGEMENT AND POLICY
Grace Simmons - BA (HONS) FASHION BUYING AND MERCHANDISING
Climbing
Hannah Slaney – BSC (HONS) SPORT, PHYSICAL ACTIVITY AND HEALTH
Cycling
Georgia Hilleard – BSC (HONS) EXERCISE AND SPORT SCIENCE
Georgia Holt – BSC (HONS) BIOMEDICAL SCIENCE
Hannah Dines (Cycling and Athletics) - MSC SPORT AND EXERCISE (PHYSIOLOGY)
Golf
Ryan Nevins – BA (HONS) ENGLISH (FOUNDATION)
Gymnastics
Bradley Nuttall – BSC (HONS) EDUCATION AND PSYCHOLOGY
Handball
Josh McDaid – BSC (HONS) PHYSIOTHERAPY
Hockey
Craig Getty – BSC (HONS) PHYSIOTHERAPY

Maxwell Margetson – BA (HONS) BUSINESS MANAGEMENT
Lacrosse
Matt King - MSC SPORT BUSINESS, MANAGEMENT AND POLICY

William Allsop – BSC (HONS) SPORTS AND EXERCISE SCIENCE
Will Baxter – BSC (HONS) HUMAN GEOGRAPHY
Alexandra Pyman – BSC (HONS) PSYCHOLOGY

William Kershaw – BA (HONS) GRAPHIC DESIGN
Netball
Abby Tyrrell – BA (HONS) SPORTS MARKETING MANAGEMENT

Amy Clinton – BA (HONS) ACCOUNTING AND FINANCE

Paige Kindred – BA (HONS) PRIMARY EDUCATION
Elzabeth Cardwell - BA (HONS) CRIMONOLOGY
Rowing
Jordan Parsons – BSC (HONS) CHEMISTRY
Rugby League
Elias Harrison – BA (HONS) AMERICAN HISTORY
Connor McCallum – BSC (HONS) FORENSIC BIOLOGY WITH SENAA
Rugby Union
Alex Brooks – BSC (HONS) HUMAN PHYSIOLOGY
Connor James – BSC (HONS) PSYCHOLOGY
Fanni Kiss - BA (HONS) SPORTS MANAGEMENT
Dean Maart - BA (HONS) SPORTS MANAGEMENT (FOUNDATION YEAR)
Matthew Gallagher – BSC (HONS) GEOGRAPHY
Alicia Calton – BA (HONS) SPORTS MANAGEMENT
Chris Taylor - MSC BIOMEDICAL SCIENCE
Ryan Woolfendon – BSC (HONS) MECHANICAL ENGINEERING
William Curtis - MSC SPORT AND EXERCISE SCIENCE
Skiing
Rowan Cheshire – BA (HONS) SPORTS MARKETING MANAGEMENT
Swimming
Emily Peck – BSC (HONS) SPORT AND EXERCISE SCIENCE

Katie Matts – BSC (HONS) EXERCISE AND SPORT SCIENCE (DL)
Tully Kearney – MSC SPORT SCIENCE

Grace Ella Cooper-Holmes – BSC (HONS) SPORT AND EXERCISE SCIENCE
Neil Wylie – BSC (HONS) MATHEMATICS
Taekwondo
Mark Bennett - BSC (HONS) ECONOMICS

Anelia Asfar - BA (HONS) CRIMINOLOGY
Water Polo
Joel Leighton – BA (HONS) SOCIOLOGY

Jordan Elliot – BA (HONS) SPORTS MANAGEMENT
Stephanie Whittaker – BA (HONS) CRIMINOLOGY
Emmie-Rose Eastwood – BSC (HONS) PHYSIOTHERAPY

Mikey Paterson – BSC (HONS) ECONOMICS