Chloe Pickering, a Retail graduate, very nearly didn't apply for the sport marketing role but ended up enjoying it so much she didn't want to leave. Chloe tells us how working in sport opened the doors to her current role as Social Media Manager for a hair and beauty brand.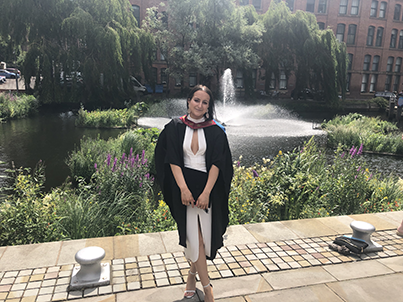 "Anyone at MMU Sport will tell you I am probably the least sporty person to have ever walked through the doors, but this didn't matter. I learnt about so many new sports and gained such a respect for those who do partake in sport. I can't say it turned me in to a sporty person but I loved learning about the technical side of all the different sports and the benefits of physical activity for students.
Since graduating, I have worked as Social Media Manager at Alan Howard Ltd, a hair and beauty wholesaler, where I manage all the social media channels for the company as well as our exclusive brands. I am passionate about what I do and feel very lucky that, as a graduate, I am trusted with the volume of management that I do.
When it came to applying for my role, I was a bit reluctant to even view the MMU Sport advert at first as the word 'sport' did not resonate with me at all, however it fitted the skills and experience I wanted to gain perfectly. I like a challenge and decided sport would be my next one!
My main concern before starting was not gaining the experience I wanted to. You hear horror stories about students who spend 12 months doing admin and making coffee. It was clear early on that MMU Sport would not be like this in the slightest. One of my main responsibilities was managing MMU Sport's social media channels. The skills I learnt through planning and implementing campaigns, creating content schedules and running analytic reports all helped in preparing me for the job I do now. I came into this role knowing how to manage social media and from the get-go was able to implement the methods I had learnt during my placement.
One of my placement highlights was working at BUCS Nationals in Sheffield – the largest annual multi-sport event. I had never attended an event in a working capacity before so had no idea what to expect. It was fascinating to be involved in something that is so important for thousands of students, and to see the level of work and commitment that goes into the weekend. The experience gave me an added insight into student sport and motivated me to put more effort into my marketing role whilst I was still on placement.
Before my placement, I was fairly sure I wanted to pursue a career in marketing. The 12 months I spent with MMU Sport solidified this and turned it into a definite goal. The responsibility and freedom I was given in my placement allowed me to channel my creative flair, and gave me a glimpse into how my working environment might be after graduation.
I enjoyed my placement so much that I didn't want to leave! I would've happily continued working, however the enjoyment I had in my 12 months with MMU Sport really gave me the motivation to excel in my final year. It prepared me so much for the working world and the things I learnt were invaluable for my future."
In spring 2020 MMU Sport will be recruiting for a graduate Digital Marketing Assisant. This is an exciting opportunity to work as part of a busy and dynamic marketing team. If you're passionate about all things digital and want to develop skills in social media, brand, design, video, PR and communications, register your interest for this role by emailing Hattie Walworth on h.walworth@mmu.ac.uk.