Within a year, Sports Coaching and Development student Hassan Mahmood went from playing in the university's 5-a-side Campus League to being paid to run the programme. Although he isn't sure what he wants to do when he leaves university, Hassan explains how he's gaining valuable experience for his future.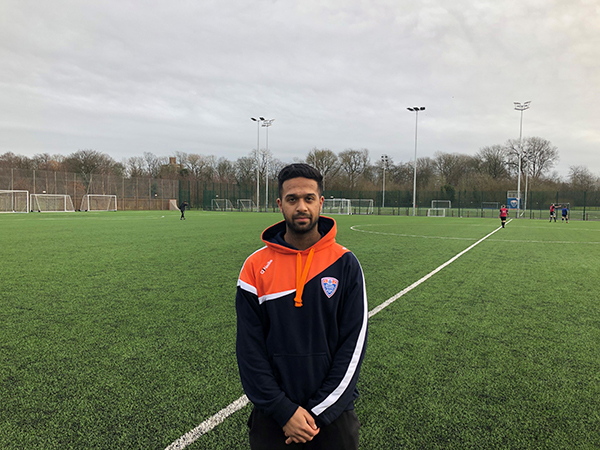 "I work both as a Sport Activator, delivering the weekly Active Campus sessions, and as a League Coordinator, organising the football campus leagues. This involves recruiting players throughout welcome week, doing pitch inspections, setting up pitches and organising referees.
"Before I started university, I wasn't the most confident of people. I would struggle to approach people and make conversations, but this role makes me challenge myself every week and my confidence has massively grown as a result.
"Being nervous is normal when you start something new and this did hinder my confidence at first. However, to overcome this I went and spoke to the MMU Sport staff. They are always really supportive and were able to work with me to find a solution to my problem. It makes me enjoy my job even more knowing that I have the office to go to if I have any worries or concerns.
"Point being is when you work for MMU sport you are never left alone. It is a team effort and everyone works together to achieve the outcomes.
"I am not exactly sure what I want to do when I leave university yet. I have a few ideas in mind, but I do know this role is helping me to develop valuable skills which can be transferred in to any job, such as time management, organisation and working as part of a team. Throughout university we are constantly being told that getting a degree is not enough, you need something else to make you stand out from the crowd to employers.
"If you have a passion for sport and want to earn some money on the side, then I cannot emphasise how great this opportunity is. There are a range of roles and opportunities available, the hours are flexible and it keeps you active.
"For me, this is the perfect job as I love sport and giving others the chance to play and get involved in recreational sport is a huge privilege. Within a year or so I went from playing to getting paid to lead the programme – this is a huge experience for me and one that I feel really grateful for.
MMU Sport are currently recruiting for a variety of roles including Sport Activators and League Coordinators – so if you want to develop skills for your future career like Hassan, find out more here.