Ellen Adams studied Three Dimensional Design whilst working part-time as a Sports Activator for MMU Sport where she facilitated the free Table Tennis and Frisbee sessions. Ellen now runs her own product design studio in Leeds, alongside working for a charity.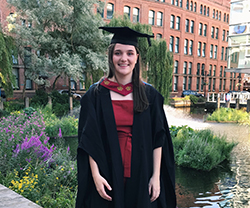 "In my current job I have to communicate my design ideas effectively and my role with MMU Sport was brilliant in developing this. I loved interacting with the students who attended my sessions and I learnt a lot about different cultures and backgrounds, which inspired me to look further into people-centred jobs.
"In my first year at Manchester Met, I got caught in the slump of hardly leaving my halls. Once I started the role in my second year, I felt healthier and had loads of motivation in both my sport and studies. I really think this was down to my engagement with MMU Sport.
"Even though I knew I didn't want a career in sport, I found the environment great as a student as it made me feel more a part of my university. My tasks included setting up and greeting students to the sessions, as well as organising events such as the glow in the dark Halloween evening and several university tournaments. I always felt excited coming in to work each day – it didn't feel like a job at all!
"One of my main worries before starting was whether I'd have the confidence to deliver the sessions properly- I'd played table tennis all my life but there's one thing playing and another being a facilitator. However, the passion I had for the sport made it so much easier, people attending the session trusted me and I think my excitement for the job rubbed off on everyone else!
"The role helped me a lot with my confidence and ability to trust my own judgement – something that is now essential when running my own business.
"It doesn't matter whether you want a career in sport – if you want to develop leadership skills and experience working with different people, it's the perfect job."
MMU Sport are currently recruiting for a variety of roles including Sport Activators – so if you want to develop skills for your future career like Ellen, find out more here.