Postgraduate student Panayiotis Michael has his hands full this year as he balances studying a Masters in Health Psychology, part-time coaching and Chairing the University Futsal Club. He explains how this busy schedule is preparing him for his future career as a Neuropsychologist.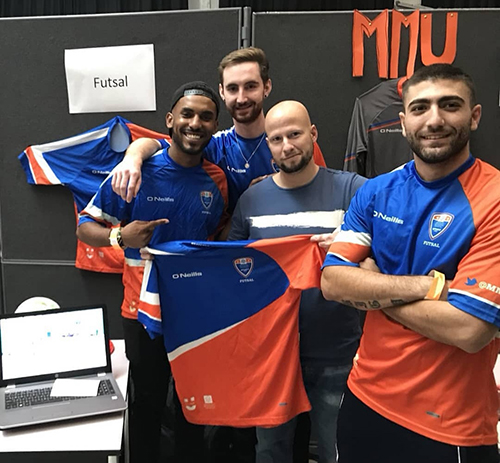 "My role with MMU sport includes being both Chairman and Captain of the Futsal Club, which involves keeping track of fixtures, booking match officials, arranging travel to away games and ensuring the safety of my team.
"I always try to make sure everyone has a positive experience within the club and see it as my responsibility to grow everyone's love for Futsal and raise awareness of the sport outside of the club environment.
"Through Manchester Met's partnership with Manchester Futsal Club (MFC), I have been able to get a part-time job as Assistant Coach for the MFC women's team. I help to deliver their training sessions and aid on match days with warm ups. One day I hope to Head Coach a team of my own so it's a great experience for me.
"I have a lot to keep on top of this year, but working in sport is really helping me to develop essential skills for the future. As an aspiring Neuropsychologist, I need to be able to show empathy and appreciate everyone's uniqueness, a trait that is essential when working in a lead position within a sports team, as there is so many different characters. When working at Freshers fair and planning trials, I've had to be aware of issues such as data protection, something that's really relevant to any job in the health industry.
"It can sometimes be difficult prioritising between my roles. My passion for the sport and drive to be in the front seat can sometimes get in the way of allocating enough time for my studies. However, on the flip side, my role in futsal is a way to escape from studies and freshen up my brain which usually works in my favour when completing assignments.
"I would really recommend to students to get some experience working in sport. It is a great opportunity to develop yourself on a personal level and learn how to overcome some of the challenges you could potentially face in any future career. MMU Sport are so friendly and supportive, and provide you with lots of exciting opportunities to work with external organisations – which is how I got my coaching role.
"There is no better feeling than the satisfaction you gain from seeing your fellow students improve on and off the field as a result of the work you've put in."
In partnership with the Union, MMU Sport offer a variety of voluntary roles both internally and in the community. So, if you want to gain experience for your future career like Panayiotis, search current opportunities on the Sport volunteering site.
MMU Sport are also currently recruiting for a variety of paid roles including Sport Activators, League Officials, League Coordinators and an Events Leader.
Find out more about developing your skills for your future career here.