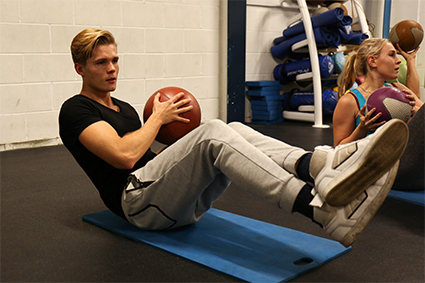 I'm Gabriel, I'm 20 years old and have been working out at Platt Lane since starting out at university at Manchester Metropolitan in September. Before September and joining Platt Lane, I had never been in a gym in my life, and now I'm in their five days a week! I got into the gym through a friend from university who invited me along one day, and going was the best decision I ever made! I really enjoyed that first session (even though I had no clue what I was doing) and have never looked back. I now love working out and spending my time working on my body when I'm not in lectures. I've never been so fit and healthy in my life and now if I miss a day in the gym I feel lost!
I didn't know anything about the gym when I first started going, but like most things, the more you do the more you pick it up and get better at it. I remember asking the gym staff endless questions about different exercises and workouts in my first few weeks. They really helped me out and made my start to the gym so much easier and provided me with the knowledge I have today. Now I feel I'm in the position to offer that same advice to others!
What I love most about going to the gym is seeing myself improve. Whether I get a new personal best on the bench press, or if I'm able to run on the treadmill for five minutes longer, I just get a great sense of achievement from bettering myself. Setting short-term goals for myself is a huge thing for me, as it means I can see how I'm progressing and it drives me on. Even if it's just as simple as lifting a few extra kilo's, it really makes my trip to the gym worthwhile!
I usually plan my week in the gym around what else I have on, so if I have a busy week of essays I will juggle my trips around this. A typical week for me will involve a 1-hour cardio session, a chest and arms session, abs and back day, and obviously a leg day in their somewhere! Any other sessions will usually just be one of the many fitness classes that Platt Lane have to offer, they are a fun way to workout, my favourite is the Wednesday night spin session! I don't have a regimented plan by any means, as I think usually being too strict can take the fun away from it! I also change up my workouts pretty regularly, as doing different exercises keeps me motivated and helps to target different muscle areas! If I ever need help with an exercise at the gym that I'm unsure of, I always ask a staff member at Platt Lane, they are always more the willing to give a hand when needed and help out!
What I love most about going to the gym is that it's my time to zone out and forget about the stresses of life and university. It's my way of taking a break, enjoying myself and recharging.
I've met some great people through my time at Platt Lane gym, friendly staff as well as like-minded members, and I will continue to set new goals, make new plans, and enjoy my workouts down at the great facilities and equipment Platt Lane have to offer.
My advice for anyone thinking of starting the gym is to go full force into it! I have never looked back since joining Platt Lane gym. There is endless benefits to being healthy and active, so go for it!