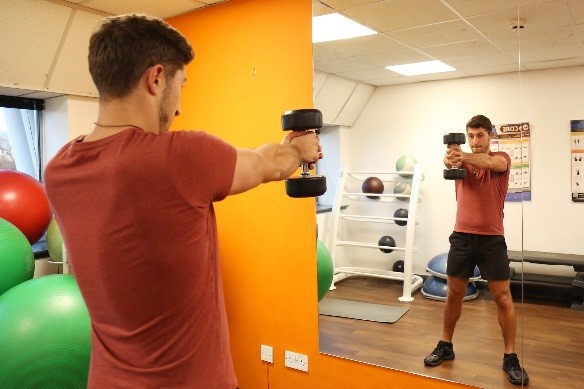 We sat down with Sam, a 19-year old student at Manchester Metropolitan University, to ask him about his life in the gym.
How long have you been a member at Platt Lane?
"I joined three months ago. I heard about Platt Lane gym from a friend who plays university football there, so I thought I'd give it a go. Seeing as it's at such a convenient location to a lot of student accommodation and not far from central university, it offered the perfect location!"
What are your goals in the gym?
"My main goal is to improve my endurance. Because I play a lot of football, endurance is really important to me and something I really want to improve. So when I'm in the gym you'll most likely find me on the treadmill or bike."
What does your gym schedule look like?
"I'll usually try and go to the gym three times a week, on a Monday, Wednesday and Friday. Although I'm pretty flexible and will quite often change my days up. Sometimes I might have an essay that needs finishing off so I'll change it up. On my days at the gym, I'll do two days of cardio, as building endurance is my main goal. On the third day I'll go to a class that Platt Lane offer, they are always good fun and a great way to socialise while getting a workout in."
What motivates you?
"It has just become part of my life now. It's part of my regular routine and the norm for me now. I love feeling fit and healthy and try to get better each time I step in the gym. If I take a succession of days of now I start feel lazy and out of shape. My endurance has improved a lot since I started, which is really important to me as when I play football it means I can keep going that little bit longer".
If you could go back in time, what would you change about your involvement in fitness?
"I would definitely have started earlier than I did. I love feeling healthy and fit and if I had known the physical and mental benefits that being active offers, I would have started going to the gym a long time ago."
And finally, what do you like most about Platt Lane gym?
"Platt Lane is a great place to work out, they offer great equipment and there is never a wait to jump on a treadmill. As well, the atmosphere in the gym is always really relaxed and all the staff are very welcoming".