Partnerships » News »
News |
Wednesday, 29th May 2019
Young Adventurers - Free after school workshops
Free after school workshops for movers, shakers, dreamers, collectors and makers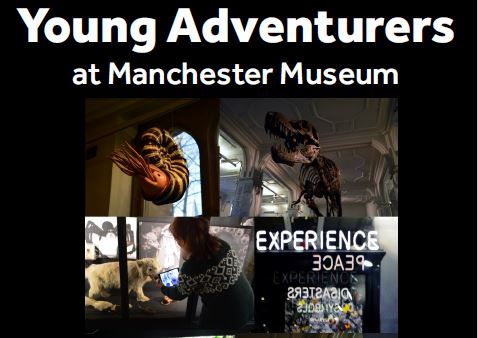 Have you ever wondered what goes on behind the scenes at the museum? Would you like to create your own exhibit? Are you interested in science and nature, art and design, creative writing, technology or craft? Are you looking for an adventure?
Young Adventurers is a new after-school program, giving young people backstage access to over 100 million years of natural and cultural history at Manchester Museum.
As humans continue to alter the Earth's climate and living ecosystems, questions of natural and cultural inheritance become crucial for imagining the future. What would you like future generations to inherit from you?
Manchester Museum is opening its doors and collections to Young Adventurers who will spend 6 weeks exploring the museum, curating a cabinet of curiosities, making history, and imagining what the future might hold.
You will join a group of 15-20 like-minded young people, and work with museum educators and curators, artists and researchers who want to shake up what museums are and what they might become.
Workshops are for 11-14 year-olds and will take place at Manchester Museum every Thursday from 6 June through to 11 July, 3.30pm-6pm.
Find out more and sign up at bit.ly/AdventuresMM