Partnerships » News »
News |
Friday, 3rd August 2018
Education Partnership Conference: Working with partners
Colleagues from the University's Partnership schools joined us for the conference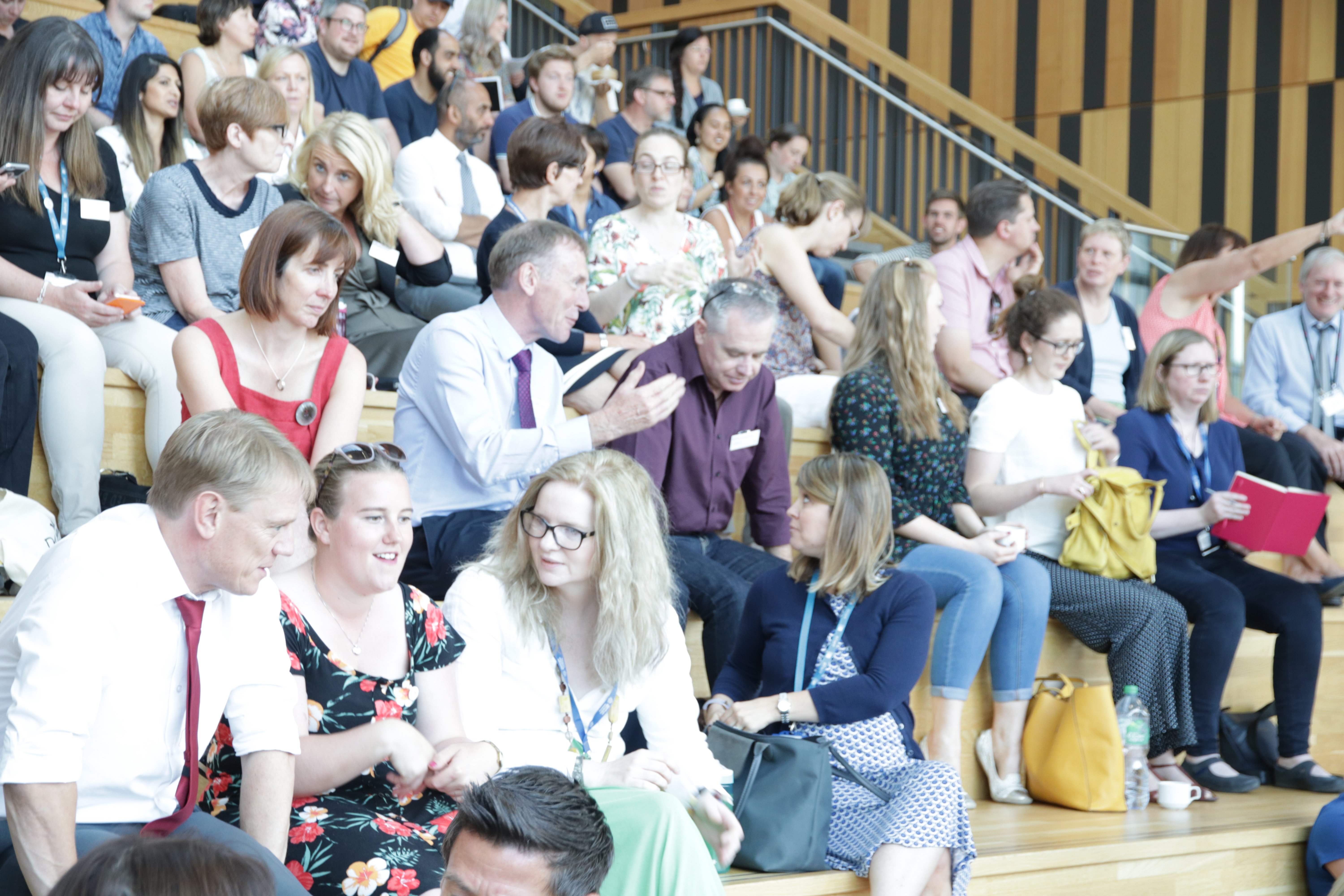 The School of Teacher Education and Professional Development welcomed colleagues from the University's Partnership schools to the Faculty Education Partnership Conference this month.
During the event on July 5, there were two keynote addresses from Lucy Powell, MP for Manchester Central and former Shadow Education Secretary, and Professor Rachel Lofthouse from the Carnegie School of Education, Leeds Beckett University.
There were also a number of workshops for delegates to attend on topics of mentoring, supporting LGBTQ staff and pupils and the power of ignition and deep practice to improve writing.
Keynote speakers
Professor Rachel Lofthouse from the Carnegie School of Education, Leeds Beckett University, opened the conference with a keynote address. Rachel has a specific research interest in professional learning and highlighted the importance of developing practice as a result of learning and learning from developing practice.
Professor Lofthouse challenged the audience to consider the role of mentoring in initial teacher development and its relationship to workplace learning for both the mentor and the mentee. She acknowledged the importance of recognising the emotions experienced by mentors and mentees and encouraged delegates to reflect on how we can establish positive engagement which encourages open and honest dialogue, despite the inevitable impact of assessment during the training year and beyond.
Lucy Powell, MP for Manchester Central and former Shadow Education Secretary gave the second keynote of the event. Lucy, who sits on the Education Select Committee, outlined the 'big issues' in education.
Powell highlighted the pressures of funding, the impact of constant change in schools, concerns over recruitment and retention in the teaching profession and the importance addressing child mental health issues, particularly in relation to exam stress. She outlined how she was working with Mayor Andy Burnham on the school readiness agenda and the importance of a multi-agency approach to help address this issue. Lucy also responded to a number of questions from the audience.
Workshops
Professor Lofthouse continued the theme of mentoring in her workshop where she drew upon sociocultural theories to develop the idea of practice architecture in analysing the process of mentoring. She gave an overview of the relationship between semantic, physical and social spaces or 'sayings, doings and relatings' and how this supports training. Rachel also offered participants the opportunity to consider how to best improve their own mentoring skills.
Martin Jones, Professional Mentor at Priestnal School, Stockport, continued the theme of mentoring in his workshop. Martin highlighted the importance of the familiar concept of 'Human Beings not Human Doings' in mentoring. He shared the idea of the RISE ethos in mentoring where mentors endeavour to Resource, Inspire, Support and Encourage mentees. Workshop attendees were encouraged to consider the importance of these aspects both practically and emotionally and the impact of differing personalities on mentoring relationships.
Supporting LGBTQ staff and pupils is a high priority in many schools and universities and it was great to have a workshop lead by the staff and pupils from the Coop Academy Failsworth Pride group. The pupils expertly helped the delegates develop their understanding of the considerable LGBTQ terminology and used the 'Genderbread Person' concept to help explain how we really are all different in terms of gender identity, gender expression, biological sex and sexual orientation. Staff and pupils each shared their own very personal stories of their experiences and the importance of the Pride group in helping them face challenges.
Mark Unwin, Headteacher of Wilmslow Grange Primary School and Nursery lead a workshop exploring the power of ignition and deep practice to improve writing. Mark suggested that allowing teachers to be more creative with the curriculum results in children being more engaged and empowered to achieve success in writing, through a more meaningful and inclusive experience.
A great day
Other sessions and presentations included tips on how to look after our backs and necks during our busy working lives by Dr Chris McCarthy from the Manchester School of Physiotherapy.
Rohit Naik of Hope School in Liverpool, and Primary Head Teacher of the Year 2017 presented his schools model of engaging with students who are outside of mainstream school. The use of trauma timelines was presented, for both teacher and pupil in order to engage and support students who had attachment issues for whom conventional school does not work. Through discussing his experiences of working with children suffering from undiagnosed and misdiagnosed attachment difficulties, he discussed his journey to become a better educator. His school has a teacher focus first ethos, which prompted being mindful and present so the teachers were equipped to help their students more successfully.
Dr Jeremy Oldfield, Senior Lecturer in Psychology in Manchester Metropolitan University, discussed resilience in the teaching profession and the many factors which have an impact on teacher resilience. Research, which identifies the many issues and factors facing teachers, was discussed. There was a focus on the predictors of positive adaptation in teachers. This session explored internal issues, a teacher has, such as self-esteem, self-care, emotional intelligence and neuroticism and external factors such as management, workload and colleague support.
Attendees were treated to a performance by young musicians from Webster Primary School.