News |
Friday, 22nd March 2019
Islamic Society hold Friday Prayer in remembrance for terror attack victims
More than 250 students and staff members pay their respects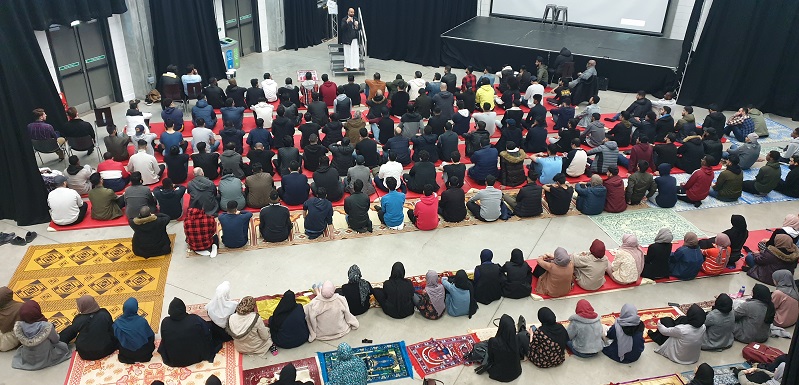 On Friday 22 March, our Islamic Society (Isoc) dedicated Friday Prayer to remembrance for the victims of the New Zealand terror attack, by carrying out their prayers in The Union.
The event was open to people of all faiths and all background, and more than 250 students and staff members paid remembrance to those who died in the terrorist attack at the mosque in Christchurch, New Zealand that killed 51 people and injured dozens.
A diverse mix of students and staff gathered to stand in solidarity and pay their respects to those who were injured and lost their lives in the attack. Mohammed Ullah, chaplain at the University, led the session and used the platform to raise awareness of Islamophobia and signpost towards actions that people can take to report and effectively combat Islamophobic actions and language.
Tayyib Nawaz, former Vice-President of Isoc and representative from Global Relief Trust said:
"[Muslims] need to start taking the right actions to report hate crime, and educate [themselves] on their rights to be able to stand up for themselves."
Abdul Rehman, Vice-President of Isoc added:
"[the goal of the attack] was to divide and spread hatred by pushing an 'us vs them' attitude. Open Friday Prayer sends the message that we're not scared. We don't see non-Muslims as a threat. We want to open our doors and bridge the gap, and be more open and transparent so that people understand. We want more opportunities to start the dialogue and for people to know more about us as Muslims."
Everyone has the right to feel safe and not experience any form of discrimination or hate crime on or off campus. If you witness or experience a hate crime happening, make sure you report any incidents at one of our Hate Crime Reporting Centres.