News |
Wednesday, 17th April 2019
Meet the Graduates – Jordan Pearson, Business Management
"I wanted to make sure I made the most out of all the opportunities available"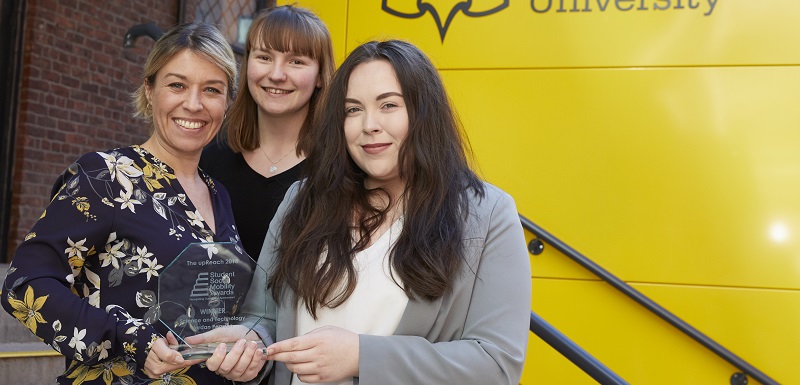 Did you know that we have over 290,000 alumni living across the world, with over 10,000 new graduates joining the community each year?
Our graduates know all the best advice to help you get the most out of the great opportunities on offer at the University and we will continue to share their words of wisdom over the coming weeks in a series of inspiring stories.
Meet the graduates – Jordan Pearson, Business Management
Business Management graduate, Jordan Pearson, recently won the prestigious 2018 Student Social Mobility Award and was the first in her family to go to university.
The awards organised by upReach, celebrate the incredible achievements of undergraduates from lower socio-economic backgrounds from across the UK.
Jordan shares her story and tell us about how she overcame barriers and became an inspiration to young people from similar backgrounds:
"I was really surprised when I was shortlisted for the Student Social Mobility Award and it felt incredible to be announced as the winner. It has given me the confidence to share my story and encourage others from a similar background to myself to aim high and never give up.
"I grew up on one of Europe's largest council estates surrounded by poverty and crime. Nobody in my family had completed GCSEs and I didn't know anyone who had been to university. I wanted to change mine and my family's lives for the better, so I decided at 11 years old I wanted to go to university.
"Some people laughed at me when I told them I wanted to go to university, but I used this as motivation to succeed and I would encourage everyone to believe in themselves and pursue their dreams regardless of what others say.
"As I didn't know anyone who had been through the process before, I turned to the internet for guidance – on everything from finding the right course to applying for accommodation. There is so much information out there and I would strongly advise anyone who is feeling isolated to have a look online. It was also reassuring to hear from other students from a similar background to myself sharing their journey and top tips – it made the whole process much easier.
"My main worry about going to university was that I wouldn't fit in, however once I arrived at Manchester Met, I instantly felt at ease and realised quickly there was nothing to worry about. There are thousands of students from lots of different backgrounds and plenty of societies, making it a great place to make friends.
"I wanted to make sure I made the most out of all the opportunities available to me during my degree – I was a course rep, I volunteered on various projects and I achieved a gold Future Skills Award. I also took part in a placement year and made use of all the University support to help me with the application process.
"My placement year at IBM was fantastic and massively helped me prepare for being a graduate. The highlight of my placement year was being chosen to work at the Wimbledon Championships providing match analysis for players, which I really enjoyed.
"I would highly recommend a placement year if you are an undergraduate student, as it provides you with valuable skills and gives you experiences you can't learn in the classroom. It was instrumental for me securing my place on the graduate scheme at IBM, where I now work as a Consultant in AI and Data.
"The best piece of advice I could give current students is – it can be tough at times, but work hard, be resilient and believe in yourself, and you will achieve great things."
Thank you for sharing your story and advice Jordan.
If you are first in your family to go to university and want to find out how you can help others, why not become one of our First Generation Ambassadors and give your CV a boost at the same time!
You can read more stories from our graduates and sign up to our Alumni Community on our Alumni webpage.